This year's Academy Awards had some notable fashion successes and fashion roadkills. I had a hard time choosing among the outfits because of how limited the good looks were during the Oscars 2021. In this article, I will be talking about those that killed the red carpet.
The 93rd annual Academy Awards made history because this year's slate of nominees contained some notable firsts. It was the first time an all-Black producing team was nominated for best picture, the first time two actors of Asian descent received a nod for best actor, and the first year that two women were nominated for best director. When the winners were revealed, it reflected this spirit of inclusion.
But of course, the red carpet will always be one of the highlights of every awards show, whether it be about music or film. Oscars 2021 is no exception.
Here Are 8 Of My Favorite Looks That Graced Oscars 2021
Carey Mulligan
I love the gold fabric used in this and how it was cut. The skirt hugged her waist wonderfully and the tube as her top was perfectly tailored for her. It was not too high nor too low. It was beautifully paired with how her golden locks were tied in a simple bun which accentuated her beautiful outfit.
H.E.R
This is one of my absolute favorites. This sheer fabric is exquisite because of how flowy it is and its beautiful embroidery. It is also the perfect shade of blue. I like how the cape was draped behind her back and how the trousers fitted her. It looks comfortable to wear but also very elegant. Her hair was also gorgeous with how it was styled. The waves were just right to rest down on one of her shoulders.
Marlee Matlin
This outfit is gorgeous. The print on the fabric is just beautiful—the silver on black. The sleeves were also a nice touch because of how they draped on the floor. I also like how the beautiful silver pattern slowly dissipated from her torso to the sleeves of the dress. Her hair was also lovely because of the slight wavy curls. And the pair of silver earrings were just a nice piece for this.
Tiara Thomas
This look is amazing. The white fabric looks so good and the fur on the hemline of the coat and sleeves. The neckline was also beautifully cut, showcasing her beautiful skin. It was accessorized nicely as well with the necklace with the perfect length, just like her trousers stretching until the floor. Her white shoes also matched her outfit. As per hair, her cornrows are a nice touch, because it was subtle but beautiful. This highlighted what she was wearing.
Trish Summerville
"Elegant" is what I would use to describe this. I love how the beautifully patterned fabric was separated from the black. Her platinum blonde hair was also rightfully pulled back to accentuate her beautiful face. Her gold earrings were a nice touch to be paired with this. It's stunning.
Zendaya
Now, this shade of yellow is beautiful. It was almost glowing. I love the flowy fabric which wonderfully made her train. The cut on her torso was also cute because of how it gave the illusion that it is also a tube. Her neckpiece was also beautiful on her gorgeous neck. Finally, the hair for this was just lovely. The whole look was very cohesive.
Amanda Seyfried
We all know that Amanda Seyfried is beautiful, but this look was just breathtaking. The dress is perfect. The red tulle was very eyecatching and out of this world. It was also very form-fitting which highlighted her beautiful body but also stretched wide on the bottom. The plunging neckline was just perfect until her upper abdomen.
The ruffles up to her shoulder were also just enough and wonderfully placed on her arms which didn't block her lovely shoulders. She wore a golden bracelet and a pair of earrings which didn't take that much attention from the beautiful gown. Her hair was also pulled back to display that Amanda Seyfried beauty. If only this was ranked, I'd give the top spot to her.
LaKeith Stanfield
Lastly, the only guy on our list is LaKeith. This is the only unique suit. He gave a nice twist to the usual tuxedo. It is very retro. The typical black and white contrast of the usual tux was given a nice alteration. The belt on this was like a cherry on top. Good thing a guy on the Academy Awards chose to show a sense of style.
What about you? Which one is your favorite look during the Oscars 2021?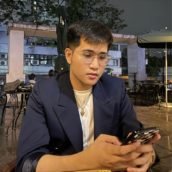 Raphael Garcia
Raphael is a person born between the generations of Millenial and Gen Z. He was produced by Cavite State University (Main Campus) with a bachelor's degree in Political Science. The lad has a fresh take on things, but can still stay true to his roots. He writes anything in Pop Culture as long as it suits his taste (if it doesn't, it's for work). He loves to wander around the cosmos and comes back with a story to publish.