Instances when Ken Suson stunned in red outfits
Photo from: SB19 Official on Twitter
January 12 is Happy Ken Suson Day! At this moment, the main dancer of Filipino group SB19 just turned 26. Of course, with warm greetings and lots of love he's been receiving now, Village Pipol is not the type to miss out— and we might as well prepare a little gift for his fans.
To honor the current titleholder of VPCA's Fashion Influencer of the Year, we cherry-picked his finest moments slaying in red. Dashing with confidence, dazing in style, here are the best of Ken Suson in his birthday color:
A blazing modern matinee-idol
For those A'TIN who have known SB19 around the time they went viral, Ken is their certified bias-wrecker. And this picture from a courteous fansite is the proof! That iconic flame-patterned polo has just become more deadly when paired with his slicked-back hair. Back when they have limited wardrobes as starting idols, this look was indeed legendary.
Marching handsome
Drum roll, please! Because our next entry deserves that. In a shoot as the new brand ambassadors for TM, SB19 aced a marching band get-up. And as if telling us it's not just over, Ken's shoulder-length hairdo perfectly fits. Perhaps, if he were to lead an actual parade, our bewilderment is assured.
Looking so superior
Even before launching his clothing line, Ken has long been the embodiment of the word 'superior.' His look for the teaser of their much-awaited comeback 'Ang Ikalawang Yugto,' is an excellent example. Sporting a black tuxedo with red floral touches, this elegance is made possible by Mark Ranque, the head stylist of SB19.
Red and chains, for the better
Way back in November 2020, SB19 graced the cover for the debut issue of Parcinq Magazine. Among their sets, this one stood up. Looking radiant with a red mid-thigh blazer, Ken even finished the game by brandishing body chains! Moreover, there were theories that this fashion statement is symbolic, as wearing safety pins signifies a 'safe place' for the marginalized.
No stopping him
There comes a saying, eye is the window to your soul. But in the case of Ken, it seems like his eyes have souls in them! Snapped from the music video for their song 'No Stopping You,' here's Ken being chic in a red turtle neck. SB19's make-up artist Mac Igarta is behind this glam work.
He's the boss now!
For the music video of their chart-topping song 'Bazinga,' SB19 showcased apparel inspired by the uniform used for Arnis. Wearing a dark-red outlined black robe, it has never been this perfect with Ken's naturally moreno skin. Thus, he definitely fulfilled the objective of this concept which is to represent a cultural fragment of Filipinos.
See Also
Simply heartthrob
Less the flashy accessories we know he can easily carry, Ken looks the best too even with plain garments. So for our last entry, we have him looking fab in a simple red sweatshirt from their 'The One' MV. His smile brought him his hundred percent visual and we live for that.
Happy Ken Day!
There is no denying that Ken Suson has good looks and an ever unmatched sense of fashion. But what makes him even great is his humble personality combined with talent. Other than that, we just know he'll make it big and it has all started.
From us here at Village Pipol who has seen your group grow, we wish you the happiest birthday, Ken!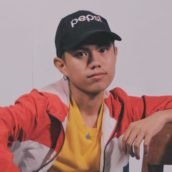 Renzneil Robles
Renzo is an introvert who prefers to do things at his own pace. Unlike most writers, he reads lazily. Watching Korean dramas at night is his constant source of comfort. Although oftentimes commended for being outspoken, he speaks better through writing than with his words.