Upcoming girl group CALISTA is preparing themselves to make a splash in the local girl group scene.
Honed by Artist Manager of the Year Awardee Tyronne Escalante, the man behind Darna lead Jane De Leon and GMA-7's newest leading man in Kelvin Miranda, Merlion PH, the team behind Miss Teen Philippines, and modern dance icon Nesh Janiola, these girls are ready to make a name for themselves.
CALISTA believes their innate passion for performing began at a young age.
Laiza Comia, Elle Pascual, Anne Tenorio, Denise Pello, Dain Leones, and Olive Bihag recalled their beginnings as performers in an exclusive online interview with Village Pipol.
Childhood roots
At the age of 11, Laiza started auditioning for roles in movies and television, with her father motivating her.
She recalled being shy, at first, during her initial auditions. However, as time passed by, confidence became her best friend.
"Mahiyain talaga ako, but eventually I developed enough confidence, especially when I
started to get projects. That's when I realized na gusto ko imaging artists."
Laiza, then, built her confidence, even more, when she became an artist for Star Magic.
The talent subsidiary honed her acting craft, giving her roles in ABS-CBN series like Ipaglaban Mo and Maalaala Mo Kaya.
Also, she bagged roles in films White House and Corazon: Ang Unang Aswang and received gigs for brand commercials.
For Elle, she discovered her love for performing as early as her kindergarten days.
"I really loved dancing and joining dance contests, starting nung nasa kinder ako. I joined programs and kahit hindi ako pinapasayaw, sumasayaw ako."
Her passion allowed her mother to see an opportunity for her to hone her skills even more.
"Since then, my mom went with me to auditions for commercials, etc. As early as 6 years old, I would model and join workshops."
Many workshops and auditions later, Elle's efforts would soon reap their fruit after she bagged the award for Best Actress in the Navotas Film Festival last 2019.
Family influence
On the other hand, Anne recalled how her love for music stemmed from her mother.
"Nasa tiyan palang ako ng nanay ko, exposed na ako sa music kasi she would always play a music box. Even after I was born, there's always music. Laging may radio na tumutugtog at mahilig kumanta mom ko."
At two years old, Anne recounts how she would easily mumble songs, with "Forever's Not Enough" by Sarah Geronimo as her first learned song.
A former talent of the Viva Artists Agency, she rose to fame after competing in the singing competition Tawag ng Tanghalan of It's Showtime.
She has also released two singles and starred in two films by Regal Entertainment, namely Walwal and Papa Pogi.
Meanwhile, Denise came from a family with a musical background.
Family and relatives from her mother's side had a knack for performing, while her grandfather was a former talent manager.
Yet, performing never crossed Denise's mind during her childhood days.
However, at a later age, she discovered how skilled she was in the realm of dancing.
"Eventually, I discovered na kaya ko pala sumayaw and nagtuloy-tuloy na from then. I would compete locally and even international competitions."
Dancing would put her on the map of the Filipino dance scene, becoming a scholar at the Dance Avenue Studio.
Currently, she dances with the group Class E and became a back-up dancer for P-pop group SB19 for their music video for "What?"
Also, she has gone off on the international dancing scene, specifically in Melbourne, Australia.
In the country, she dominated the Revolution International Dance Championship 2019, ranking 6 overall.
Late discoveries
Daine, on the other hand, had no aspirations to become a performer.
However, she felt motivated when her mother pushed her to try out for show business.
"I was very focused sa education ko, walang time for that. My mom was the one who pushed me to try and pumasok sa industry. But now, na-enjoy ko na kasi happy ako sa ginagawa ko na pagiging performer. Eventually naging passion ko na."
Since then, she has become a brand ambassadress for a toothpaste brand and joined numerous pageants.
Meanwhile, Olive had dreams of joining modeling and pageantry when she was little.
It was only later when she realized that performing had become her passion.
"I feel like late ko na realize nung bata ako na kaya ko kumanta at sumayaw. Mostly focused ako noon sa pageants and modeling. Masaya ako sa pagrampa kaya never ko inexpect na masasali ako sa isang girl group."
Since then, Olive has gone through different workshops spearheaded by GMA-7 and the G-Force dance group.
At present, she boasts over 1.2 million followers on TikTok, solidifying herself as a social media influencer.
A group rivaling the international scene
The girls would go on and meet after auditioning for the Tyronne Escalante Artist Management, where a girl group was planned to be formed.
According to management head Tyronne Escalante, he decided to form a local girl group that can rival well-known international groups like BLACKPINK and TWICE.
"Together with Merlion Events Productions, we decided to start CALISTA. We held auditions and plenty of talented girls were considered. But eventually, after weeks of workshops and careful consideration, we chose these girls."
After numerous workshops, Escalante saw the chemistry and talent between the six girls, seeing them form a sisterhood.
"We're so lucky kasi they're not only talented, but they have such great chemistry together. They've become very good friends. We're glad na we formed not just a group that is talented, but also, we created a sisterhood that cares for one another and other girls."
A 'caliber' of talents
When asked about the story behind CALISTA, Olive recalled it came into fruition during a team building for the group.
Wanting to make a name for themselves, CALISTA divided into two to discuss potential group names.
Eventually, they agreed to Olive's suggestion, with the name stemming from the Greek vocabulary.
"I suggested CALISTA kasi it's a Greek word, meaning most feminine and beautiful. At the
same time, I thought of 'cali' because of caliber, which could mean level of your ability and also a gun's caliber. Because we're cute, yes, but we're also fierce. We can be warm, but also edgy."
All of them agreed to the beautiful name, all pushing them to move forth with the girl group that becomes their gateway to pursue their passion for performing.
According to Escalante, CALISTA has been training hard in different aspects in order for them to bring out their best.
"Our girls have been training really hard. Dance and vocal training. They also have workshops for personality development. Syempre photo and video shoots. Plus body conditioning, work out, and exercise for endurance. As a performer, necessary na malakas ang katawan mo kasi you'll be singing and dancing at the same time. But also, the exercise is to develop their discipline. They are also recording their single and planning for their music video shoot. Everyone should really watch out for these!"
Building a stronger relationship
However, trainings were not the only memorable moment for CALISTA. Sharing laughs and smiles, too!
Daine said,
"Memorable talaga for me 'yong training namin, pero masaya kasi nagtatawanan kami lagi."
Moreover, Anne said,
"True 'yong sabi niya na lagi kaming nagtatawanan. 'Yong small things kasi 'yong memorable for me. 'Yong times na kumakain kami kapag break time, after mag-training ganun."
Furthermore, building trust and sharing conversations have also been CALISTA's way of building a strong relationship.
Elle said,
"Bonding talaga namin yung training kasi syempre dun nabui-build yung trust namin sa isa't isa and cooperation."
Denise recalled,
"Usap and nagsha-share ng stories. Iyakan. Doon kami nagiging closer with each other."
Laiza recounted,
"May time din na nag-sleepover kami. Bonding kasi movies and food trip. Doon namin mas nakilala 'yong isa't isa kaya best moment 'yon for me. Nagshare kami ng stories and feelings."
Facing struggles together
However, it would not be a group if there won't be any struggles. CALISTA recalls how they resolve every challenge they face as a group.
Olive said,
"Marami talang challenges. 'Di ko nalang ispe-specify pero nate-test kami as a group and individually. Naresolve naman namin, nafigure out namin how to handle the situations kaya complete pa rin kami."
Anne agreed, further saying,
"Meron talangang times na tested kami. Pero it's made us stronger and mas nakilala namin isa't isa."
Elle added,
"Kahit ano naman yung struggles namin, pinaguusapan namin as a group. Para we see each other's sides and opinions. Tapos saka nare-resolve 'yong problem."
Believing in themselves
When it comes to aspiring performers, the up-and-coming group advises them to always believe in themselves.
Dain said,
"Believe in yourself and chase your dreams. Ano man sabihin nila, 'wag ka magpapa-apekto. Just continue improve and don't lose hope."
Moreover, Denise said,
"Magsumikap ka lang kasi one day, ma-achieve mo din lahat ng dreams mo. Kaya wag ka sumuko sa passion mo."
In addition, CALISTA added how challenges would always be present, but one should continue focusing on their goals.
Olive explained,
"It's not going to be easy. Maraming obstacles along the way. But trust the process and don't question yourself."
Meanwhile, Laiza added,
"Just continue to work towards your goal, as long as it makes you happy. Persevere kasi masarap sa feeling 'yong ma-accomplish mo 'yong goals mo through your hard work."
And when asked what to expect from their group, CALISTA teases to watch out, as they aim to spread platforms to spread and inspire people.
Anne said,
"CALISTA may not be the first girl group, pero we're here to stay and make a difference. Marami kaming pinrepare and malapit na siyang ma-witness ng public. We will bombard the audience with our performances."
We cannot wait for what is in store for you, CALISTA! Good luck in your rise to girl group fame!
Publisher | Richie de Quina & Gwynn Crisostomo
Editor-in-Chief | John Luke Chica
Junior Editor | Kobe Adam Joshua Laurena
PR & Advertising Manager | Josh Austria
Digital Manager | Allen Esteban
Words by Kobe Adam Joshua Laurena
Photographer | Dookie Ducay
Hair | Caren Bautista
Makeup | Effie Iñigo and Lin Uy
Stylist | Myrrh Lao To
Special Thanks to Tyronne Escalante Artist Management and Merlion Events Production Inc.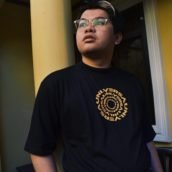 Kobe Adam Joshua Laurena
Kobe Adam Joshua Laurena is a writer who loves to tell stories from the perspectives of different people and everyday life. Apart from the pen, he loves to pick up the lipstick to transform into his frustrated drag persona: Anita Good Lovin'. He aspires to combine his love for writing and drag by creating a novel, short story, or screenplay about local drag queens in the future. He also has an obsession with sitcoms, women's pro-wrestling, and Funko Pops.