Jenna Ortega unapologetically admits she did not want 'Wednesday' to be a hit
Photo from Jenna Ortega's Instagram page (@jennaortega)
Breakout star Jenna Ortega does not hesitate to be brutally honest when it comes to discussing her smash hit Wednesday. Turns out she did not want to do the iconic role initially.
In a recent interview with The Times U.K., Jenna shared how she did not desperately want the prominent Wednesday Addams role. In fact, she turned down multiple offers to star in what would become a breakthrough role.
To give context to those who have been living under a rock, the Netflix series ranks behind only Stranger Things 4 as Netflix's most-watched English-language series of all time.
"I got the email, passed on it. I had done so much TV in my life. All I've ever wanted to do is film…You have to prove yourself. It's only in the last three or four years that I've been able to start going up for film. I was scared that by signing on to another television show it could prevent me from doing other jobs I really wanted and cared about," the former YOU star said.
"The only reason I went back is because Tim [Burton, director and executive producer of 'Wednesday'] is such a legend, and we just happened to get along very well. But even then I said, 'Ah, no — I think I'm OK,' a couple [more] times," Jenna added.
Jenna never expected Wednesday to become such a global phenomenon. "I thought it wasn't going to be watched. That it will be a nice little gem that someone finds, but [most people don't]," she said.
Subsequently, the Times asked her if it would be preferable for the show to have been a small gem and not a massive hit everyone watched. Jenna did not hesitate to answer, "Yeah".
"I used to do a Disney show when I was younger. I was a little bit of a public figure, used to get recognized, or whatever. When I look back, I think I was so out of place. I didn't understand where I was, and you start to see Hollywood for the first time and it's a bit intimidating, a bit off-putting. [I] felt like I was a people's princess. I didn't really feel like myself. Then it started to slow down and I lived a pretty normal life….Until 'Wednesday,' until now, I think," she continued to detail.
Earlier this month during an appearance on the Armchair Expert podcast, Jenna disclosed how she opposed a lot of Wednesday's dialogue. Actually, she changed her lines on set without telling the series' writers ahead of time.
"I don't think I've ever had to put my foot down more on a set in a way that I had to on 'Wednesday.' Everything that Wednesday does, everything I had to play, did not make sense for her character at all. Her being in a love triangle? It made no sense. There was a line about a dress she has to wear for a school dance and she says, 'Oh my god I love it. Ugh, I can't believe I said that. I literally hate myself.' I had to go, 'No,'" Jenna said.
"There were times on that set where I even became almost unprofessional in a sense where I just started changing lines. The script supervisor thought I was going with something and then I had to sit down with the writers, and they'd be like, 'Wait, what happened to the scene?' And I'd have to go and explain why I couldn't go do certain things," the Gen Z darling continued.
Whether Jenna likes it or not, she indeed embodies the ideal celebrity of Gen Z kids—beautiful, outspoken, charismatic, stylish, and, wel… unapologetic.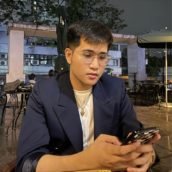 Raphael Garcia
Raphael is a person born between the generations of Millenial and Gen Z. He was produced by Cavite State University (Main Campus) with a bachelor's degree in Political Science. The lad has a fresh take on things, but can still stay true to his roots. He writes anything in Pop Culture as long as it suits his taste (if it doesn't, it's for work). He loves to wander around the cosmos and comes back with a story to publish.