I can be described as a lot of things and "having a sweet tooth" is definitely one of them. For this reason, I have always loved to explore different kinds of pastries and other sweet delicacies. One of them is cake, of course.
I came across this Instagram account which offered different kinds of cakes called Keikeu Box PH. And if I'm being honest, their packaging and the variety of their flavors are the factors that initially caught my attention. The containers, which hold the pastries, are as cute as the shop's name.
I thought to myself that I wouldn't be passing up such an adorable shop like this. It led me to a conversation with the owner and they were kind enough to answer a few questions as they sent me three of their very tasty cakes.
You wouldn't know how sweet (yes, pun intended) this experience was for me.
Gimme S'more
The first one I tried from the three boxes of goodness that they sent me is this one. It is called Gimme S'more. Krizha, one of the owners of the shop, described it as having toasted and melted gooey mallows with graham crusts.
Sounds delicious, right? Well, boy, oh boy, it does. I actually tried this one with my sisters and we are all enchanted by how it tasted. Since it is the first one, it definitely set the bar high for the other cakes in the shop.
The story behind Keikeu Box PH
Krizha talked about the meaning behind the cute name of their shop which I assumed was Japanese. However, she reiterated,
"Close enough! Actually, Keikeu (hangul: 케이크) came from the Korean pronunciation of cakes and in our packaging, even in our logo there are hangul words that translates to our flavors and/or the name of the shop."
She also detailed the identity of Keikeu Box PH, describing how they are inspired by Korean culture.
"We knew that we wanted Korean minimalist inspired cakes, as we are K-Drama addicts. Lo and behold in just a snap of a finger, all three of us came up with the word Keikeu Box. Simple yet catchy."
The businesswoman also talked about what pushed her and her co-owners to start this very sweet and very aesthetically pleasing business.
"Since we are working from home, we've come up with the idea of doing a small business. The motivation from the start was to think of something as a side hustle and, at the same time, something we do for fun yet fulfilling."
Krizha also continued how their optimistic perspective gave life to the enchanting cake shop.
"Also, we're inspired to really make things happen. And I think that's the foundation of everything we do here in Keikeu Box Ph. We turn tiny ideas to small wins."
Chocolate Drop
A fun story about the experience of having received the three cakes is how we resisted consuming them in a whirl. We wanted to enjoy them as gradually as possible. However, only a few hours after munching the Gimme S'more, we couldn't help but open this one only a few hours after.
It is called Chocolate Drop and the owners described it as dark & sweet—a layer of moist chocolate cake, chocolate cream cheese, sweet cream & a touch of chocolate shavings on top.
The cake definitely lived up to our expectations. It tasted just like heaven in a box and we are a hundred percent here for it.
The design
Krizha also detailed how having this business is a dream come true, definitely fueling their passion for making cakes.
"Us three are all HRM graduates so food business has always been in our mind (even though we all have different day jobs). We could say that it's a hobby and a dream combined."
Of course, I didn't pass up the opportunity to ask about the cute containers of the goodies. Krizha once again talked about their love for Korean design and also its convenience.
"We've come up with the idea of using a clear square container as it originated from Korean cafes and bakeries."
"These small-sized cakes are super convenient because not only are they affordable, but also aesthetically pleasing and travel-friendly. Also, they are meant not only for birthdays and other celebrations but accessible for those who want to fulfill their cravings without needing to order a normal size cake. Plus, you can eat one for any casual occasion."
Classic Tiramisu
Just one day after enjoying the first two cakes, we're sadly down to our last box of goodness, the Classic Tiramisu. And to note, Krizha shared how this is her favorite among them all. That definitely excited me more than anything.
The owners described this as a newbie but an immediate favorite. It is coffee mushed biscuits layered, coffee, cream topped with dark powder.
Just imagine how great that sounds. What more when it comes to how it tastes, right?
What's next for Keikeu Box PH?
"We are planning to come up with more flavors of our boxed cakes to give more variety to our customers. So watch out for more in the coming months!"
I also asked if they are planning to add more types of pastries to their lineup of sweet cakes.
"Currently, we are not there yet, but we'll never know! As we always have these random ideas that pops up suddenly to make Keikeu a favorite of many".
A message to Keikeu Box PH's current and future customers
"Our team will make sure that Keikeu is here for the long run ~ offering the right amount of sweetness, not just aesthetically pleasing but a really good piece of cake!

As we say, experience happiness in a box!"
I have nothing but beautiful words about Keikeu Box PH. My experience with their service is nothing but wonderful. I legitimately enjoyed their products more than anything. Krizha is also very accomodating and very kind when it comes to answering questions about their cakes.
The Gimme S'more, Chocolate Drop, and Classic Tiramisu are all very good. I can't wait to try the flavors I haven't tasted.
If you want to try the cakes yourselves, you can visit their Instagram account, Keikeu Box PH. Also, here is their menu for you to look at. I promise you, they are worth it.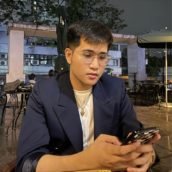 Rapha Garcia
Rapha is a person born between the generations of Millenial and Gen Z. He was produced by Cavite State University (Main Campus) with a bachelor's degree in Political Science. The lad has a fresh take on things, but can still stay true to his roots. He writes anything in Pop Culture as long as it suits his taste (if it doesn't, it's for work). He loves to wander around the cosmos and comes back with a story to publish.