HORI7ON to spread feel-good vibes with approaching single 'Lovey Dovey'
Photo | HORI7ONofficial (Facebook)
A sneak peek of HORI7ON's latest digital single, Lovey Dovey, has left fans eagerly anticipating its upcoming global release.
HORI7ON is a seven-member group composed of Vinci, Kim, Kyler, Reyter, Winston, Jeromy, and Marcus. The ensemble was formed after members emerged as winners of the reality idol survival show Dream Maker. The program featured 77 aspiring young men who contested against each other to become part of a global pop group in the making.
Following their formation, HORI7ON released two songs, DASH and SALAMAT. Both tracks were accompanied by music videos that earned millions of views on YouTube.
HORI7ON teases approaching single 'Lovey Dovey'
On Monday, HORI7ON dropped the teaser for their third pre-debut single, Lovey Dovey, coming out on May 31. The song is a lively tune that celebrates a youthful romance and the thrill of a new connection.
Lovey Dovey was initially sung by former contestants who performed it as part of a challenge during a particular segment of Dream Maker. Several other finalists showcased a performance of the music piece during the show's finale episode.
Meanwhile, fans expressed their excitement as news about HORI7ON releasing a new track broke. According to them, the concept of Lovey Dovey matches the innate charm of the members.
HORI7ON is currently immersed in intensive training in South Korea as they prepare to debut soon this year. They previously had a series of promotional events in the Philippines, including a fan meeting earlier in April.
To stay up-to-date with the latest news about HORI7ON, follow them on social media.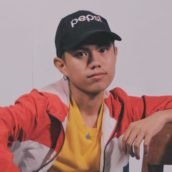 Renzneil Robles
Renzo is an introvert who prefers to do things at his own pace. Unlike most writers, he reads lazily. Watching Korean dramas at night is his constant source of comfort. Although oftentimes commended for being outspoken, he speaks better through writing than with his words.