SB19 strikes gold as 'GENTO' MV surpasses one million views
Photo | All-Out Sundays via SB19 (Facebook)
In a testament to the incredible support for SB19 from their massive fanbase, the official music video for GENTO has exceeded a million views mark on YouTube.
On Friday, SB19 released GENTO on music platforms, with an official music video uploaded on YouTube. It is the first song from the group this year since Nyebe came out in December 2022. The latest single is also the inaugural track from PAGTATAG!, an upcoming extended play. 
Three days since GENTO entered the music scene, its MV has garnered more than 1.27 million views on the platform to date. The milestone sealed the song as a smash hit and welcomed a promising beginning of a new chapter for SB19.
SB19 'GENTO' MV surpasses one million views
As reflected in its lyrics, GENTO ingeniously plays with words by blending the Filipino term 'ganito' meaning 'like this.' At the same time, it is a clever linguist twist that could also mean 'ginto,' alluding to the preciousness of gold.
Additionally, Pablo of SB19 earlier said that GENTO represents what they have to offer as a group. More importantly, the piece summarizes the quintet's story of success.
On the other hand, the piece resonates with fans as a bold declaration of asserting truths with sincerity but without apologies.
After GENTO, SB19 will launch the much-anticipated PAGTATAG! EP on June 9. They also plan to promote the mini-album through a world tour in Canada and the United States. The kick-off concert will be held for two consecutive days at the Smart Araneta Coliseum.
Have you listened to SB19's newest masterpiece yet? If not, stream it here!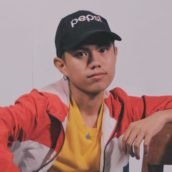 Renzneil Robles
Renzo is an introvert who prefers to do things at his own pace. Unlike most writers, he reads lazily. Watching Korean dramas at night is his constant source of comfort. Although oftentimes commended for being outspoken, he speaks better through writing than with his words.