'Dream Maker' can have renewed season: creators
Photo | Dream Maker Official (Facebook)
As Dream Maker triumphantly concludes its pilot edition, creators confirmed that a new season for the reality competition series is not entirely far-fetched.
Dream Maker is a survival show with an aim to debut a new batch of a pop boy group. ABS-CBN Entertainment produced the project in collaboration with a South Korean-based agency, MLD Entertainment, and KAMP Global.
After airing for nearly three months with 26 episodes, Dream Maker recently concluded its first season. The top seven finalists were chosen out of 62 contestants and are set to debut this June in South Korea as an ensemble called HORI7ON.
Due to its success, some are asking for the possibility of a follow-up series. In response to this, the business unit head Marcus Vinuya nodded his approval.
Possible second season for 'Dream Maker'
During a press conference on Tuesday, Vinuya discussed the possibility of the second installment of Dream Maker. He emphasized the role of Filipino audiences in supporting the show after admiring its new format, the ABS-CBN News reported.
"Nothing is formal yet, but definitely, when we were doing Dream Maker, we were talking about future plans for the show," Vinuya stated. He cited MLD Entertainment CEO Lee Hyung-jin as saying what he prefers in case they pursue future seasons.
"So, kami we're taking it sa lead niya na there are plans so definitely maganda na mapatuloy natin 'tong ganitong klaseng programa. Feeling ko marami pa sa Pilipinas ang gustong sumali kasi ngayon nakita na nila 'yung show," the unit head noted.
Vinuya hopes for a follow-up edition of Dream Maker, be it a search for a boy or girl group. He affirmed that many will surely audition now that they have been briefed on the program's premise.
Although, it seems that the final decision will be based on Lee's green light.
For updates about the survival program, follow their social media page here.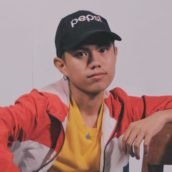 Renzneil Robles
Renzo is an introvert who prefers to do things at his own pace. Unlike most writers, he reads lazily. Watching Korean dramas at night is his constant source of comfort. Although oftentimes commended for being outspoken, he speaks better through writing than with his words.