Is age just really a number when you're in a relationship? Many celebrity couples have broken the age-gap stereotype and have not let the years come in the way of love. Because of that, people are now more open to dating someone way older than them. Luckily, some of those relationships work because of understanding and maturity. Between Us Queens discuss this in a new episode of the podcast.
Pauleen Luna-Sotto spills her thoughts on the age gap issue on Between Us Queens
In a recent podcast of Between us Queens, three smart and modern women, namely Pia Wurtzbach, Carla Lizardo, And Bianca Guidotti, talk about the realities of dating someone way older or younger.  "Between Us Queens" one of the first-ever Filipino Spotify original podcasts from Spotify Studios. Basically, it gathers the trio to talk about real-life moments, personal anecdotes, and conversations on what a modern Filipina is and what she's facing.
The three beauty queens shared that all of them had the tendency to date someone who's their age or a little older than them. Pia said that she dated a guy one or two years younger than her so she did not even feel the gap that much. So to further discuss the issue with someone who has the first-hand experience, they invited Mrs. Pauleen Luna-Sotto as their guest.
Though their relationship wasn't a smooth ride before marriage, we see how Pauleen Luna is still very much in love and happy with her husband Vic Sotto. People raised eyebrows at their relationship because of the 34-year age gap between them.
Compatibility is more important than age
However, Pauleen shared that she personally thinks that compatibility is a more important factor than age. "Actually, magkasundo kami (referring to her husband). We're home buddies, we like staying at home and eating out. We're a boring couple" she added with a few laughs. With likes and dislikes, we're pretty much on the same page."
During the podcast, Pauleen also talked about the reactions of people around them about the huge age gap, the relationship dynamics, and the lessons from handling a relationship with her husband who's 34 years older. She mentions that there were challenges but for her, they were all manageable and worth it. She gave a bit of wise advice, "Don't let the opinions of others change the way you see that person."
As their final thoughts about the issue, the trio beauty queens concluded that age should not really matter in romantic relationships. "As long as you're a consenting adult, you respect each other, and you become a better person because of each other–those should be put in the forefront."
To listen to this podcast episode of Between Us Queens, you can click here.
Will you guys date someone older or younger than you?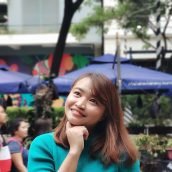 Queenie Lastra
Queenie Lasta got her bachelor's degree in Communications Research from UP Diliman. In her free time, she likes to read thriller novels, psychology books, and mangas. She believes in the importance of grit, hard work, and passion to become a great writer in the future.