Ayn Bernos has always celebrated her sun-kissed skin. Through her content and her brand, Morena the Label, she has also inevitably challenged colorism in the Philippines. Colorism refers to discrimination against individuals with a dark skin tone. This typically happens among people of the same ethnic or racial group. Of course, this topic is not new in the country as dark-skinned Filipinas experience this type of prejudice.
Tiktok creator and proud morena Ayn Bernos challenges colorism in the Philippines
A little boost of confidence can go a long way in empowering others. Women supporting, uplifting, and encouraging fellow women would mean so much. Realizing this, the female empowerment advocate decided to use her online content to motivate her followers. Especially her female viewers. That way, they feel more assured with themselves. Her journey to becoming a motivational content creator on the app began with a breakup. She shared:
"My first video that went viral was my post-breakup journey. I simply shared what I was able to achieve once I started focusing on myself and my growth – moving to a different country, traveling, starting a business – and I guess a lot of women were able to resonate with that. Since then, I started creating motivational videos about confidence and being a work-in-progress. My favorite part is not really preaching or giving advice. It's more about being open about my journey and sharing the lessons that I personally had to learn the hard way."
Morena the Label
Since then, Ayn used TikTok as a platform to talk about her advocacies. Of course, this includes challenging colorism in the Philippines. She admits that her morena skin became a source of insecurity growing up. Now, through her label as well as her content, she wishes to make a difference for younger Filipinas. She shared:
"I was really insecure about my skin color as a kid, and it took me a long time to gain my confidence. Having a platform as an adult, I wanted to change that experience for future generations of morenas. I started Morena the Label to allow other morenas like me to also find that confidence. To some people, they're just t-shirts, but to our customers and our followers, these t-shirts are an opportunity to be proud of our skin – oftentimes, for the first time. Morena the Label is a brand, but more than that, it's also a community."
Her advocacy
Ayn remains an advocate of self-development and educatipn. She also became one-half of the Camp Confidence Radio Podcast. Aside from that, she also has a second TikTok account, Ayn Pero Tagalog. She uses this account top produce bite-sized English lessons aimed at make language learning a little less intimidating for beginners. When asked about the most important lesson she has learned in life, she detailed:
"It took me some time to learn, but when I did, it changed my life. I realized that I don't have to compete with other women in order to succeed. I thought that success meant being the most beautiful, or the smartest, or the most talented woman in the room. But in truth, there is nothing more fulfilling than being in a room of supportive women who shine in different ways. It's a cliché, but we really are stronger together."
Follow Ayn Bernos and other inspiring women on TikTok! Download the app on your iOS and Android devices today to get started.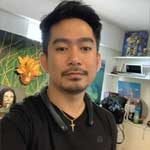 Josh Austria
Aside from being a businessman, Josh Austria has been working in PR and media industry for more more than a decade. From his years of experience as the Marketing and Advertising Head of Village Pipol Magazine, he has built strong relationships with creative people, brands, and organizations.