Dennis Trillo had the time of his life meeting Academy Award greats at the 78th Venice International Film Festival.
In the recently-concluded event, the Kapuso actor, who was present for the international premiere of On The Job: The Missing 8, posted photos on his Instagram this Sunday, September 12.
Meeting modern Oscar greats
The event became the path for Dennis to meet Academy Award-winning directors Bong Joon-ho and Chloé Zhao.
Bong, who directed the Academy Award-winning Best Picture Parasite, is the head of jury of this year's film festival.
In addition, members of the jury include Zhao, Cynthia Erivo, Alexander Nanau, Saverio Costanza, Virginie Efira, and Sarah Gadon.
Dennis also took the opportunity to have his copy of the Parasite graphic novel signed by Bong.
On another Instagram post, he said,
"Labyu (Love you), Tito Bong! Thanks for signing my book!"
On the other hand, Dennis posed with Zhao, the director of the Academy Award-winning film Nomadland, in another post.
With them were On The Job: The Missing 8 producers Quark Henares and Stacey Bascon and director-producer Erik Matti.
Praises from the jury
Moreover, Dennis posted a video with the jury members praising his performance in the crime-action film.
In the video, Bong told Dennis,
"They all loved you… You were so great,"
On the other hand, Erivo told Dennis,
"You were brilliant. I hope to see you in many, many more villain roles. You were amazing."
Furthermore, he expressed gratitude to each of them, appreciating all the praises.
See Also
Meanwhile, in the caption, Dennis thought he was dreaming with all the praises being showered towards him.
"Nananaginip ba ako???"
On The Job: The Missing 8 is the only Southeast Asian and Philippine entry for the festival's In Competition section.
Furthermore, John Arcilla, the lead star of the film, triumphed in the event's Best Actor category, winning the Volpi Cup.
The movie, based on true events, follows journalist Sisoy Alas (Arcilla) who investigates the disappearance of his colleagues.
Moreover, Dennis co-stars in the film as Roman, a prisoner who is part of a gun-for-hire business.
On The Job: The Missing 8 is a sequel to the internationally-acclaimed 2013 film On The Job starring Gerald Anderson and Joel Torre.
Lastly, the 78th Venice International Film Festival took place in Italy from September 1 to September 11.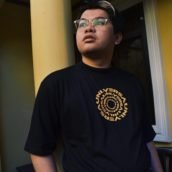 Kobe Adam Joshua Laurena
Kobe Adam Joshua Laurena is a writer who loves to tell stories from the perspectives of different people and everyday life. Apart from the pen, he loves to pick up the lipstick to transform into his frustrated drag persona: Anita Good Lovin'. He aspires to combine his love for writing and drag by creating a novel, short story, or screenplay about local drag queens in the future. He also has an obsession with sitcoms, women's pro-wrestling, and Funko Pops.