John Arcilla won the award of Best Actor at the 78th Venice International Film Festival.
The actor bagged the accolade for his performance in the Erik Matti film On The Job: The Missing 8.
Matti, himself, received the award on John's behalf, seen on the festival's official YouTube live stream on Sunday, September 12.
A well-deserved recognition
Through a video message, John delivered a speech expressing gratitude for the festival for the recognition.
In addition, he expressed regret that he would not be able to receive his trophy, known as the Volpi Cup.
He said,
"I will not be able to kiss my own Volpi Cup there in the middle of Venice and on that red carpet just like the other 77 great actors whom I admire who have already kissed their own,"
Moreover, John added that he felt understood despite his fellow actors coming from different countries.
"I know that we came from different countries and we have different languages and cultures and yet I can feel that you understand me and we understand each other. It's because of the art of cinema,"
Furthermore, John posted his full speech on Instagram, saying how he felt speechless over his triumph.
"This VOLPI CUP is such a symbol of a milestone in my work as an actor. Just like my cup of life which is so full of blessings outpouring from the heavens and I wish I can share this to all my loved ones who left us in this lifetime."
A powerhouse sequel
On The Job: The Missing 8 is the only Southeast Asian film picked for the In Competition section of the festival.
See Also
This comes from the release of the Film Development Council of the Philippines (FDCP).
Additionally, the film follows journalist Sisoy Alas (Arcilla) who investigates the disappearance of his colleagues.
Dennis Trillo also stars in the film, playing prisoner Roman Rubio who is part of a gun-for-hire business.
Other actors who are part of the film include Christopher de Leon, Leo Martinez, Joey Marquez, Agot Isidro, and Soliman Cruz, among others.
The movie is a sequel to the internationally-recognized action thriller film On The Job last 2013, which starred Gerald Anderson and Joel Torre.
The 78th Venice International Film Festival had an 11-day run from September 1 to September 11.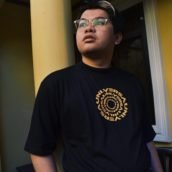 Kobe Adam Joshua Laurena
Kobe Adam Joshua Laurena is a writer who loves to tell stories from the perspectives of different people and everyday life. Apart from the pen, he loves to pick up the lipstick to transform into his frustrated drag persona: Anita Good Lovin'. He aspires to combine his love for writing and drag by creating a novel, short story, or screenplay about local drag queens in the future. He also has an obsession with sitcoms, women's pro-wrestling, and Funko Pops.