BTS memoir in Filipino edition confirmed for release
Photo | BTS Official (Instagram)
Filo ARMYs will be delighted to know that K-pop global sensation BTS is set to release their memoir, and a special edition in Filipino will be made available.
Earlier this month, the memoir Beyond the Story: 10-Year Record of BTS was confirmed for launching by Flatiron Books. Before the announcement, many internet users supposed that the upcoming historical account would feature singer-songwriter Taylor Swift.
However, the speculations ended when the American-based publishing outfit shared that the book will tell the story of the seven-piece supergroup. Aside from their narrative, it is tributed to BTS' massive global fanbase, ARMY.
Meanwhile, the project aims to sustain fan engagement during the group's temporary break as they fulfill their military enlistment obligations.
BTS memoir in Filipino edition confirmed for release
On Monday, local publishing company APop unveiled a revelation that adds to the growing surprises for Filipino fans of BTS. 
"Apop is excited to [partner]with Big Hit Music to publish the Filipino edition of Beyond the Story: 10-Year Record of BTS," it said. The launch date is slated on July 9, while further information about pre-orders will be revealed in June.
Additionally, the memoir will be composed of 544 pages. Based on earlier reports, South Korean journalist Kang Myeong-seok teamed up with all seven members of BTS for the work.
It was in July 2022 when BTS declared a hiatus from all activities as a group. Presently, Jin and J-Hope have commenced their military service, while the remaining bandmates are pursuing solo musical endeavors.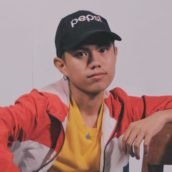 Renzneil Robles
Renzo is an introvert who prefers to do things at his own pace. Unlike most writers, he reads lazily. Watching Korean dramas at night is his constant source of comfort. Although oftentimes commended for being outspoken, he speaks better through writing than with his words.