BIGBANG's Taeyang collaborates with BTS' Jimin for his solo comeback 'Vibe'
Photo | THEBLACKLABEL
Ever heard of BIGBANG? Well, of course, you have. They reign as one of the pioneers of the 2nd generation K-Pop, and now, one of their members, Taeyang, has released a comeback as a solo collaborating with another massive legend, but of the 3rd generation, BTS' Jimin.
Six years after his solo release, on Friday, Taeyang releases his new digital single, Vibe of his third studio album White Night. He had various solo hits before his national service. These include Only Look at Me, Eyes, Nose, Lips, Ringa Linga, and Wedding Dress.
The title track Vibe is composed of addictive and strong beats that sing of subtle emotions in a relationship. Not only did the K-pop megastar take part by featuring the song but he also starred in the music video.
The video entices the eyes and ears with its suitably dazzling visuals, which showcase the stars' slick dance moves and undeniable charisma. During his countdown live show via YouTube held an hour before the release of the new single, Taeyang said,
"I am beginning this new year with a new agency. Ever since I finished my military service, I have been working with the Black Label to make music and bring up this new single. I was able to start my journey as a solo artist at this agency through a good opportunity. It feels new."

Taeyang on the experiences he has had before the release of his comeback
The K-Pop star recently moved to the Black Label, an affiliate of his former agency YG Entertainment led by producer Teddy. Vibe marks his first single under the new label. Taeyang shared,
"The expectations for this single were really high, as Jimin took part in it. Working together brought out the best in us so we are very satisfied with the result. We kind of looked like an old hip-hop duo."
It is no secret that the boys of the worldwide phenomenon BTS are fanboys of the iconic BIGBANG so it is no surprise that Jimin really was on board with this. He had shown interest in working with Taeyang since 2013 when he made his debut as a member of BTS. He said he admired BIGBANG's Taeyang and hoped to perform with him on the same stage. Taeyang said,
"Two years ago, not many BTS members were carrying out careers as solo artists. When I was working on some songs after completing military service, producer Teddy came across them and said people would love to see a collaboration between Jimin and me. It was mind-opening for me because I had never thought about it."
As the huge boy group BTS announced their temporary hiatus as a whole ensemble last June, the members have each embarked on solo ventures.
According to Taeyang, as he wrote the lyrics to Vibe, he looked deeply into the meaning of the word that started to trend a couple of years ago. It led him to think that a good vibe could be someone we love or it could be just a happening.
Thereafter, he concluded that true love starts from the bottom of the heart, and only when we create harmony does a good vibe get completed. He mentions,
"I doubted whether I could introduce a new song to the world because I have changed a lot in the last couple of years. I am really looking forward to the public's response.
Watch the music video here.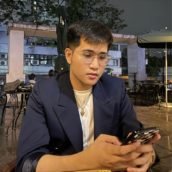 Raphael Garcia
Raphael is a person born between the generations of Millenial and Gen Z. He was produced by Cavite State University (Main Campus) with a bachelor's degree in Political Science. The lad has a fresh take on things, but can still stay true to his roots. He writes anything in Pop Culture as long as it suits his taste (if it doesn't, it's for work). He loves to wander around the cosmos and comes back with a story to publish.