BrewedMinded shows how the art of coffee making can be a 'me-time' at home
Most often, we think coffee as a part of or morning routine to power through the day. Basically, we just need to gulp it down because we need to stay up and energized. But is coffee just really that? Apparently, people have a brilliant perspective that coffee making can be an art. Let's get to know one of them as we talk with Kenneth Francisco from BrewedMinded.
Making coffee at your own house can be a form of therapy
BrewedMinded is a local coffee business that sprouted during the COVID-19 crisis. It all started when Bea Kirsten Francisco- Perinia and her husband asked Kenneth to assist them in marketing the Trung Nguyen Vietnamese coffee. They are planning to resell this variant online and when they came up with the business name "BrewedMinded". That's when they knew that they should not limit their offer to one kind of coffee only.
Kenneth Francisco has already a working knowledge of the arts and visuals. Because of that, he helped them in their online platform, branding, creatives, and even in social media planning.  Thankfully, they were able to kickstart their business with only one starter kit for Trung Nguyen Vietnamese coffee.  Using this coffee variant, they showed coffee lovers how to prepare it properly through a short video tutorial.
Kenneth explained that this is important by saying, "Coffee making is an art and that is what we want to show the people. Coffee exists in diverse forms other than your instant coffee. And because of the pandemic, where most of our beloved coffee shops are closed, we wanted to encourage everyone to stay at home and start learning to make one's own cup at home. Making your own cup is very therapeutic, and it sets your entire household's mood for the day."
Coffee is not your only fuel to get what you have to do, passion is
Kenneth and his team experienced struggles in catering for their customers outside the Metro Manila during this pandemic. He also said that even they are not coffee experts, they did their best to bring them their perfect cup. Through thorough studying, they took notes of their clients' feedback and learned a lot. About the schedule, Kenneth added, "We also juggle our time between BrewedMinded and our day jobs since we do our daily grind with our respective employers."
With this experience, he got some advice for young entrepreneurs out there: "When starting your own business, it has to be something you truly love/passionate about. When you are fueled by passion, you don't feel burdened spending extra time to keep your business going; you get excited hearing from customers, you don't get overwhelmed or annoyed receiving late-night messages, you enjoy every product launch no matter how tiring it gets, and you are at a hundred percent in everything you do."
To improve the caffeine experience, the team tried pairing them with their own product called BM Bites- Double Choco Crinkles.
In addition to that, BrewedMinded also had a partnership with the makers of the world's first Belgian Tableya, Theo & Brom. The coffee business has now the right to sell its products like Tableya Filipina, The Gooey Ganache Magic Tableya Cake & The GooGoo Jar.
BrewedMinded products stand out from other brands because they do not compromise the quality even with the affordable price tag. Also, they make sure that the coffee that goes to a BrewedMinder's home is fresh and new. Kenneth mentioned that they made an upgrade to their packaging to ensure the freshness of coffee beans.
If you are interested in ordering BrewedMinded coffee and other products, you can reach them via Facebook,  Instagram, and this mobile number: 0915 829 8427.
Craving for some dose of the good of caffeine right now? Share this away with your coffee-lover friends!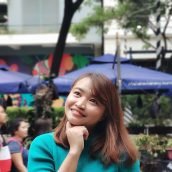 Queenie Lastra
Queenie Lasta got her bachelor's degree in Communications Research from UP Diliman. In her free time, she likes to read thriller novels, psychology books, and mangas. She believes in the importance of grit, hard work, and passion to become a great writer in the future.