Be your most confident and creative selves with Beyond Concepts self-shoot studio
Posing in front of the camera becomes really intimidating and even terrifying for some. Not to mention the thousands of pesos we pay for photographers aside from the studio itself. They say it costs much to look good. But does it really?
Today, in favor of our convenience, numerous photo studios have emerged to cater to our needs and help us with the dilemmas we usually encounter when trying to achieve high-quality photos that just slap!
Level up your photo shoots with the greatness of Self Portrait by Beyond Concepts Studio (BCS)! Located at the Lower Ground of Hemady Square, E Rodriguez, Quezon City, it champions a self-shoot studio that provides you with just the best. They have two basement parkings that are absolutely free!
A self-shoot studio for all
Just in time for the holidays, the self-shoot studio opened its doors to the public for them to enjoy BCS' amazing service and do some artistic shots for Christmas. Hey, even some of them just perfectly got that wonderful photo to share as their Holiday greetings.
Last December, the studio arranged a Christmas-themed set design that the visitors really loved, which the studio aims to do for every occasion. Aiming to entice couples, families, groups of friends, baby photoshoots, pets, and everyone in between, Beyond Concepts Studios have everything in mind. They have provided different props and backdrops for you to choose from and be in line with your vision and taste.
Be shot like a professional
Vincent Sy, the brilliant creator, has shared how self-shoot studios become more convenient and charming to the masses. He details,
"You get high-quality photos, receive the digital copies, and be printed, which you can get at affordable rates. It's hassle-free because the camera, lights, and backdrop are already set up. You just have to hit the remote button to capture the photo."
Truly, this kind of photo service attracts several people, especially those artistic individuals who love exploring the art of photography; or simply, those who want to spice up and elevate their Instagram pages or other social media presence. With the use of one's phone, a person already creates stunning shots—what more with the right equipment, location, and service?
Pose! No one's looking
In addition, for introverts and those who are just not in the mood for interacting with anyone, a self-shoot studio simply creates a perfect environment. Since many are not comfortable with a photographer or other people around, with a self-shoot studio, you have it for yourself. You can choose to enjoy it with your partner, family, friends, pet, or maybe even alone, as it requires no crew of people to make that amazing photo in your head happen. All you need is that remote.
The rates
Their rates include a Standard package, PhP 750 for 1-2 pax, and an Upgraded package, PhP 1400 for 3-4 pax.
See Also
Standard Package
1-2 pax
15 mins photo shoot
15 mins photo selection
1 backdrop
2 pcs postcard print (4R/4″x6″)
2 pcs photo grid print
Digital copy of printed photos
Upgraded Package
3-4 pax
30 mins photo shoot
20 mins photo selection
2 backdrops
2 pcs postcard print (4R/4″x6″)
4 pcs photo grid print
Digital copy of printed photos
Indeed, nowadays, a show-stopping photoshoot as if shot by a professional photographer is just in the palm of your hands. What better place to do that than with the Self Portrait Studio by Beyond Concepts Studio?
To book an appointment, you may send them a message in their social media accounts displayed below:
Facebook – Self Portrait Studio by Beyond Concepts Studio
Instagram – @selfportraitbybcsMeanwhile, aside from the Self Portrait studio, if you are looking for a bigger one to accommodate you, Beyond Concepts Studio offers Studio A that can cater 23-30 pax and Studio B which can cater 12-15 pax. All studios, including the self-shoot studio, Studio C, are located at the Lower Ground of Hemady Square, E Rodriguez, Quezon City.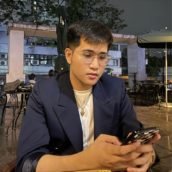 Raphael Garcia
Raphael is a person born between the generations of Millenial and Gen Z. He was produced by Cavite State University (Main Campus) with a bachelor's degree in Political Science. The lad has a fresh take on things, but can still stay true to his roots. He writes anything in Pop Culture as long as it suits his taste (if it doesn't, it's for work). He loves to wander around the cosmos and comes back with a story to publish.