Art as a Glimmer of Hope as Told by Cyrus Montaño
Photo by Angelo De Luna
In a world filled with chaos, darkness, and manipulation of the masses, truly, art makes us feel alive and serves as a way to enrich our souls with meaningful beauty as well as hard truths. Artists craft masterpieces with the flick of their paintbrushes, communicating stories from far and wide and helming works that are up for interpretation.
Cyrus Montaño or Cy.Mon is no different, a budding artist who strives to relay significant ideas with the help of his brilliant artworks that mostly takes inspiration from contemporary art.
Used to believing that he cannot draw and can only do sculptures, he discovered his talent for painting when he got an invitation to a gallery exhibit. Here, he tried to explore more of himself.
Cyrus' art style usually stems from his love for a post-apocalyptic setting with a touch of pop art, steampunk, and abstract. Furthermore, he aims to relay a message in his artworks of not taking things for granted, because, in his words, "we tend to learn the value of things once we're about to lose it."
The young painter has created this universe filled with various references to his favorite movies. Films such as Dreamworks' Home and Trolls inspired his characters, while the Isle of Dogs and Mad Max gave that post-apocalyptic element.
Art for the kids of this generation as well as for the kids we once were
In addition, he reiterated that he usually features young ones for his characters because we have all been kids. This, in turn, makes anyone relate. His art is for the kids of this generation as well as for the kids we once were.
"Naniniwala din ako na yung mga bata sa story na binubuo ko sa art ko represents something. If we let the kids of the new generation prosper, think on their own, and learn from their mistakes, we will see their full potential."

Cy.Mon on his passion for the youth
The young artist also reminisced how, in the past, his family doubted the path he has chosen—how they all thought that making art was just a hobby. No one in their household does such work, and since he was the first one to have such passion, it is new to them.
"But now that most of my family members acknowledge my success in the industry, I am looking forward to making them more proud. I will reach for my dreams with the help of my passion and talent."

Cy.Mon sharing how his family had a hard time accepting his passion
If one views his art pieces, he will notice how each of their skin has a different color while their noses are in a different triangular shape, with him mentioning that he intended for them to have this nontraditional nose structure.
"Of course, this has an underlying message—na kahit na maputi, maitim, pango, matangos ka, you are beautiful in your own special way. Disregard the standards na pinaniniwalaan ng iba."

Cy.Mon on the unattainable beauty standards
Recognizable themes of Japanese food and masks, innocent kids playing in rivers—Mister Sasquatch or Mister S has been mentioned by Cyrus who has inspired him a lot.
"To me, the world he creates is wildly interesting; the art he makes depicts kids who are lost in mind-boggling forests. This pushed me to create my own version."

Cy.Mon on his admiration for Mister S
Indeed, the works of both these young artists are connected by their interpretation of youthful children in unfamiliar places of nature, as well as their immense talent of looking through the lens of nostalgic individuals who are lost in the beauty of their childhood.
Tagpuan sa Ground Zero
Having the talent of such a young lad, it comes as no surprise that Cyrus Montaño is finally gaining recognition in the art scene, being one of the few talented artists featured in Gallery BiG's Tagpuan sa Ground Zero.
"In physics, Ground Zero references the point on the earth's surface directly above or below an exploding nuclear bomb. The exhibition re-appropriates the trauma and chaos of this apocalyptic signifier into one of rebirth and renewal as a metaphorical starting point for new ideas and expressions. As we have become collateral damage in the aftermath of the manyfold implosions around us, we turn to art for healing and illumination, finding recourse in the regenerative power of collectivity and creativity to cast the light upon where we might head on next."

Tagpuan sa Ground Zero, as defined by Gallery BiG
According to Gallery BiG, in Tagpuan sa Ground Zero, they have gathered their inaugural batch of young artists with promising talents. Originating from various parts of Luzon, this first group of gifted individuals use "an eclectic variety of media and work on projects that delve into contemporary life post-pandemic, post-elections, and post-trauma."
Getting a little bit emotional and displaying his passion for the well-being of the country, Cy.Mon details how his art somehow resembles the feeling of devastation from the result of the recent election. Certainly, you cannot take away the fire of an artist when it comes to the ideals he upholds and believes in.
"Parang, paano ka babangon at patuloy na mamumuhay after such incident. That is why I decided that the universe I will create will start from scratch—from finding a plant (which represents life and hope for my characters) and making it grow into a tree. As of now, isang puno palang ang napapakita ko sa artworks ko but it will definitely grow bigger and have other trees in its midst that will give life to my characters."

See Also

Cy.Mon on how his art reflects his feeling of devastation with regard to the past presidential elections
Undoubtedly, the pieces of work he forms are bigger than himself as they mirror the state of the Philippines as a whole. Yes, roses have indeed lost their petals, but the light that illuminates within the hearts of many still signifies regrowth and rebirth in the future amongst those who stand for the good of the community.
"My art universe is supposed to be dull, grasping for life, and has an element of having that desperation to survive. In real life, it's as if my art was answered when I had that short video call with Ma'am Leni. Talagang nabuhay yung pananaw ko at nabuhayan ako ng pag-asa which is why I decided to bring that life and hope to my artworks na din."

Cy.Mon on how a video call with Atty. Leni Robredo gave him hope
Further reiterating his fascinating messages through the tales he tells in his masterpieces, Cyrus expounded on his concepts.
"My characters began to mutate because of a radioactive infection that changed their skin color. They scavenge for things that they can use to survive even though there is a risk of being outside in a radioactive area. Some lost their limbs and senses because of the catastrophe. They used the same technology that destroyed their world to help them with their struggles."

Cy.Mon on how his characters utilized modern technology to save their lives
What is in store for Cy.Mon's art?
Talking about how he sees the future of his art, Cyrus looks forward to continuing the rich story that he started from his first gallery exhibit. The talented lad even imagines translating his works through an animated film.
However, right now, of course, he still basks in the glory of his initial start in the art world while feeling very grateful. He would like to pursue experimenting with the other parts of his world. This signifies the nuclear explosion according to the definition of Ground Zero—the "renewal as a metaphorical starting point for new ideas and expressions."
Cy.Mon also mentioned how visitors and collectors from his gallery exhibit showed immense interest in his sculpture, Suzzie, making the future of other characters as toy sculptures more possible in his future exhibits
Truth be told, the emerging talent still tries to let the reality sink in—how surreal it is that all of his artworks are reserved and got sold on his opening day. With this, he holds a promise of keeping on painting and writing the story of how his Ground Zero characters' adventure will further unfold.
Aside from the greatly purposeful messages he relays with the use of his masterpieces, Cyrus Montaño leaves with words that he wishes to be a fuel to other up-and-coming artists the world has yet to see,
"Don't let others tell you who or what you should be. Just keep on believing in yourself and in the talent that God has given you. You may experience upeaks and valleys but as long as you keep on going, you will soon reach the goal that you are aiming for. Don't be afraid to be unusual. Always remember that being normal is the worst insult that, I believe, an artist can ever receive. Don't be afraid to be you and let your freak flag fly!"

Cyrus Joshua Montaño and his advice for the artists out there who wish to be recognized in the art scene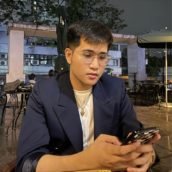 Raphael Garcia
Raphael is a person born between the generations of Millenial and Gen Z. He was produced by Cavite State University (Main Campus) with a bachelor's degree in Political Science. The lad has a fresh take on things, but can still stay true to his roots. He writes anything in Pop Culture as long as it suits his taste (if it doesn't, it's for work). He loves to wander around the cosmos and comes back with a story to publish.