7 new things about Mac's new operating software 'macOS Monterey' that make me happy
Everyone's favorite gadget brand, Apple, just released the new operating software of their Macintosh computers.
The successor to the macOS Big Sur
It is the successor to macOS Big Sur and was announced at WWDC 2021 on June 7, 2021. It had its official release last October 25, 2021.
The operating software was distributed to computers released after 2015. Fortunately, as most of its predecessors, it's free and should now be available for download globally. Well, of course, as long as your mac is within those that are eligible.
The inclusivity of the update
The range includes everything after and included the 2013 Mac Pro, the 2014 Mac mini, the 2015 iMac, MacBook Air, and MacBook Pro. This is along with the 12-inch MacBook that Apple launched in 2016.
As expected, Apple saved the best of Monterey's more exciting features to Macs running its chips. The MacBook Pro 14 and MacBook Pro 16 had expanded from just the M1 to the M1 Pro and M1 Max.
I can sigh in relief that I still have a few years to enjoy this kind of prerogative and save more money for my next Mac (since it costs a fortune). I have an M1 Macbook Air so I have approximately 6 years left to breathe.
But honestly, I think Apple is very user-friendly when it comes to its software updates, including for the iPhone and iPad. They always try their best to include earlier models.
Yes, some features might be inaccessible but it's still pretty great that they try to include those from years ago considering the difference in chips (the intel and M1/M1X).
7 exciting updates of the macOS Monterey
Now, here are my top picks for the new features that I appreciate about the update.
Mirroring with AirPlay
With the enhanced AirPlay support, contents from an ‌iPhone‌ or ‌iPad‌ can be AirPlayed to the display of a Mac. It also works with Mac-to-Mac transfers. One Mac's screen can now be displayed to the other.
Since two Macs are supported, a Mac can use another Mac as an external display. It works like a Target Display Mode feature clone.
The update works both wirelessly or wired with the use of a USB-C cable. The wired connection is useful for cutting down on any possible latency. AirPlay‌ can also be used to turn your Mac into a speaker that's paired with other ‌AirPlay‌ 2 speakers for multiroom audio.
This is one of the updates most people are excited about ever since the OS was announced. I, for one, am very excited about this because I love playing games on my phone. With AirPlay, I can now project my game to my Mac. Now, everyone can watch my amazing gameplay.
‌AirPlay‌ to Mac works with the 2018 or later MacBook Pro or MacBook Air, 2019 or later iMac or Mac Pro, the ‌iMac‌ Pro, and the 2020 or later Mac mini.
Animated Memoji can be your new lock screen avatar
The famous Memoji can now be set as your macOS avatar. What's exciting is that it can show up on the Lock Screen in place of the standard still image.
To activate, you can check it in System Preferences, click on your profile, and create or choose a Memoji to serve as your avatar.
It's cute how you can choose a favorite pose and style like in your iPhone. Add a background color, and then click save to set it. The Memoji will be animated on the Lock Screen of your Macintosh when you log into it.
A fun thing when you type a wrong password is you'll see the Memoji react.
FaceTime with your friends feels more real
The pandemic has really changed the world we live in into a virtual one. It's very nice of Apple to have considered this drastic transition by providing big changes in the update. FaceTime now has additional features we can use.
These include spatial audio support. What's exciting about this is, depending on where the person is sitting, their audio should sound and feel like it's coming from their position. It actually feels Black Mirror-esque.
Voice Isolation has also been introduced. This uses machine learning to eliminate background noise and make voices clearer and more audible.
We also have Wide Spectrum, which does the opposite. All ambient sounds and voices are boosted. This can be useful in some circumstances where you need to hear the environmental sounds where people are.
How amazing will it be if you can blur user backgrounds during FaceTime, right? Well, now you can. MacBooks and Macs using Apple's M1, M1 Pro, and M1 Max chip can do this.
Thanks to the Neural Engine, this is something that has been part of other video calling applications for a while now. It doesn't require specialist hardware.
More useful is the ability to invite anyone to connect to a FaceTime call. And get this, even people using Windows and Android devices. They will still benefit from the end-to-end encryption.
Well, I'm pretty much excited about this so my friends and I can have a more immersive experience. We do not see each other that often anymore due to how busy we are. This will be a very big help for us buddies.
You can now Focus better
This Focus feature is considered a more tailored version of the Do Not Disturb setting. For those who have a short attention span like me, depending on your current activity, you can now filter out notifications.
Status can be set so other people know you're not to be interrupted. Also, if you set up Focus on one device, it will be mirrored on all your other Apple devices.
I actually noticed this on my iPhone when I iMessaged my friend. The app displayed that she doesn't want to be disturbed. However, there is an option to "notify her anyway" which is kind of sassy of Apple to do. I'm living for it though.
You can now have Shortcuts
First showcased in the ‌iPhone‌ and ‌iPad‌, Shortcuts are now available on the Mac. All your favorite shortcuts can now be easily accessed. You can now make Mac-specific ones that are available in the Gallery.
See Also
Next Action Suggestions make it easier to create new shortcuts. Also, your Automator app workflows can be converted into shortcuts.
These are integrated throughout macOS 12 Monterey, including the menu bar, Finder and Spotlight. You can even access it using your bestie, Siri.
Paste Safari links and Map locations in Notes
Personally, I love using the Notes app on the Mac. As a writer, when I'm creating bullet points for my articles, I run to the app by using Spotlight Search. Now, it's better improved by the new OS.
The Quick Note feature lets you write down notes from any app or website. You can also add links from Safari or Maps.
In addition, it now works like Google Docs, which is a very convenient app where you can collaborate. Multiple people can work on notes, which gives them access to add their own comments.
People's edits can be easily found in the new Activity View, and tags can be added so you can easily find them later on.
Safari 15 Tab Groups
Apple's web browser for macOS, Safari, has been redesigned for macOS 12 Monterey. Honestly, I do not use this because I use Chrome. But with this new update, I might give it a try.
Tabs are now more compact, the toolbar is refined, and you can use tab groups. It saves and groups tabs together for easy access. This is very useful for people who end up browsing with loads of tabs open at once, like most of us.
What's convenient about it is you can name the groups, and they can be accessible across all your devices. If you change something on your Mac, the groups on the iPad and iPhone will also change.
A search box can also be used to find certain websites. And to all of us little kids out there, it's cute how the Tabs bar changes color depending on what website you're on.
Final thoughts on the update
Personally, I don't think these changes create that much of a difference. These are the things worthy of being mentioned but I don't think they're revolutionary. However, in my opinion, there are cute changes from here and there.
The animated avatar is so cute. Whoever thought of that is probably fun at parties. I like him/her/them. Also, FaceTime's new features are good additions, especially the spatial audio support. I'd love to try that with my friends.
The other updates are kinda awesome too and I can say that they are worthy of being upgraded. The only downside I can see in this is how HUGE storage it will take amounting to 12 gigabytes. That's a lot for us who didn't pick a variant that's very large. Like mine, I only have 256 GB.
Also, it will be very inconvenient for those who don't have that much fast internet connection. I actually finished this article as it was downloaded and installed. It took me almost 2 hours.
Other than that, I think all is good. I'm satisfied with this update. I didn't ask for anything really. So these changes are more than enough.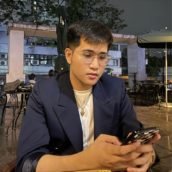 Raphael Garcia
Raphael is a person born between the generations of Millenial and Gen Z. He was produced by Cavite State University (Main Campus) with a bachelor's degree in Political Science. The lad has a fresh take on things, but can still stay true to his roots. He writes anything in Pop Culture as long as it suits his taste (if it doesn't, it's for work). He loves to wander around the cosmos and comes back with a story to publish.