Egg drop sandwiches named after your K-Drama stars? Here's how you can get them!
South Korea is not just the home of dashing Oppas, gorgeous Hallyu stars, and talented boy or girl groups. This country offers a lot of interesting food trends that make our mouths water just by looking at them. Yes, I'm speaking about the kimchi soup, tteobokki, jjangmyeon, and Korean corn dog that looks so appetizing in the K-Drama series. But now, there seems to be an emerging trend for egg drop sandwiches.
An egg drop sandwich is a combination of fluffy scrambled eggs, strips of bacon or ham, melted cheese, sriracha, and a sweet white sauce. All of that goodness is sandwiched in between a buttery, golden-brown thick slice of bread.
If you are watching Hospital Playlist, you might have seen this sandwich a couple of times when Ik Jun's bonds with his son Uju. Yet, you don't have to travel to Korea to taste those delectable snacks. Brew Morning Coffee is already here to bring them to you.
Origin of the eggwiches from Brew Morning Coffee
Karl Justin Martin, the owner, opened a home-based cold brew coffee shop when he went back to his hometown in Naic, Cavite. He admits he's not much into coffee because of his hyperacidity. But one day, he became so fascinated with the process of cold brew preparation.
As a K-Drama fan, Karl got inspired when he saw how people attempted to recreate egg drop sandwiches from shows like Hospital Playlist and 18 Again.
Since he's just a one-man team, Karl encountered several challenges as he tried to make things work. With a full-time job, he mainly struggled with time management and scheduling.
Thankfully, he was able to overcome them with support from his own family.
"This business might be owned by just one person but everyone in the family chips in every now and then, looking for things they can help with and I am very thankful for them."
Aside from that, Karl is strongly motivated to push through his difficulties. For him, the posts and positive feedback from strangers bring the much-needed satisfaction that makes all the physical labor worth it.
He added,
"What gives me drive is that more and more people I don't know continue to send inquiries and orders. That's a good thing for us, as it means the business isn't just dependent on who we personally know,"
How do these egg drop sandwiches taste?
First, let's go to the cold brew coffee selection of his shop. I was able to taste and try four variants, namely Hazelnut, Vanilla, Caramel, and Mocha. For those who want strong flavors, I can highly recommend Hazelnut and Mocha.
But if you are leaning towards something light and milky, then the Vanilla and Caramel might be better options.
The cool thing is you can send a photo of yourself or anything to have your coffee bottle customized. This is a simple but touching gift you can give to your significant other or even your friends!
Now let's go to the sought-after eggwiches. Brew Morning Coffee offers six kinds of egg drop sandwiches, each of them is super filling that I think a single serving is good enough for two. The cute and funny thing here is all of the eggwiches are named after K-Drama Hallyu stars. The owner made a clever wordplay to make them more appealing.
What egg drop sandwich should you choose?
Ham So Hee is the most basic variant for me since its filling consists of ham, fluffy eggs, and sweet sauce. Meanwhile, the Park Bogham (from Park Bogum) contains ham, egg, and a whole piece of hash brown!
IU-da (from IU) is a yummy ham, bacon, egg, and cheese sandwich. If you are a bacon lover, go for Baecon Suzy. Next is the Spam Seo Joon (from Park Seo Joon) has sliced spam, cheese, and roasted nori sheets. BTEggs (a play on BTS) is bacon, tuna, and mayo egg sandwich. On the other hand, Ham Jo Hyuk has chicken ham, eggs, and some sweet sauce.
Note that they are still adding the Ham Joo Hyuk and Park Bogham to the menu. All of the sandwiches tasted wonderful and satisfying, so choosing the flavor still depends on your tastebuds.
But if I had to pick my favorites, the winner among them is Spam Seo Joon. BTEggs would be my top 2. Personally, I liked how the salty spam contrasted with the taste of nori, then the eggs became a binding flavor. For the BTEggs, the tuna is surprisingly fresh and sweet. It perfectly blends with the creamy egg mayo and savory bacon strips.
How to order from Brew Morning Coffee?
According to Karl Martin, customers can order by shooting them a message on Facebook and Instagram. Their payment methods include Gcash, Paymaya, bank transfer of cash on delivery
The price of the cold brew coffee starts at PHP 70 for a black cold brew and PHP 90 for premium variants like Hazelnut and Mocha. For the eggwiches, the price ranges from PHP 100 up to PHP 140.
Currently, the shop has a meal promo called the BTEggs meal at PHP 200. You can get a BTEggs and a premium coffee of your choice if you order this.
Their shop schedule is from Tuesdays to Sundays with order cutoffs at 5 PM.
So order an eggwich today and eat like you're in one of those scenes from K-Dramas!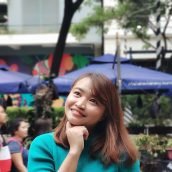 Queenie Lastra
Queenie Lasta got her bachelor's degree in Communications Research from UP Diliman. In her free time, she likes to read thriller novels, psychology books, and mangas. She believes in the importance of grit, hard work, and passion to become a great writer in the future.