This dreamy coffee house in Tagaytay is a must-visit for hangouts or solo moments!
Pinoys are fond of Tagaytay City because of its cold breeze (especially during BER months) and tourist attractions. You have a spectacular view of Taal Volcano and gorgeous sceneries and structures in this city.
Apart from this, there is much more to this beautiful city than meets the eye of the casual tourist. Indeed, this city is now nuzzling with new restaurants and cafes that we're so excited to try. Coffee & Dreams is a superb choice to start this food journey, and we have so many reasons why!
Story of Coffee & Dreams: Where Coffee meets Dreams
Coffee & Dreams is accessible and can be easily located via Waze or Google Maps. However, note that they have limited parking space in front of the establishment so you'll have to park your vehicle inside a nearby subdivision.
It's also nice that they put up enough space for alfresco dining. It's great for those lazy moments like sipping tea or coffee while enjoying fresh Tagaytay air. Going inside, your eyes will be in a treat! Saying this place is IG-worthy is an understatement since every corner is picture-perfect.
Most of the interior elements inside is Scandinavian but you can see that the owners had a personal touch on the decors. The owners filled the place with pretty things like books, trinkets, and some holiday decors of course.
But it is amusing that they all seem to go together in harmony. Needless to say, this coffee shop has great lighting, not too bright but not dim at all. You'll surely enjoy taking photos for your memories and your social media feed.
In fact, you'll find a perfume shop inside Coffee & Dreams featuring several scents. The Perfume Depot sells authentic perfume, body lotions, moisturizers, and bath products. Allegedly, the items here are relatively more affordable, even cheaper compared to mall prices by up to 30 percent.
They also have scents for home and linens that have original formulation. The smell inside is really comforting yet elegant, pretty much like you're in a hotel lobby.
This coffee shop serves a wide variety of affordable yet enticing dishes and drinks!
I must say Coffee & Dreams has quite an extensive menu in terms of food offerings and beverages. They even have Japanese food and rice meals!
We had a hard time choosing what we want to devour and drink but we settled on getting their best-selling Pork Tonkatsu and Dreamer's Breakfast. Both of these dishes really have huge servings, even two persons can share.
The Pork Tonkatsu is served with a cup of hot rice and a serving of shredded cabbage and the tonkatsu sauce on the side.
The breading has a nice crunch and the right amount of thickness to envelope the juicy pork. The sauce is rich and tangy so it goes really well with the tonkatsu, rice, and cabbage.
Meanwhile, Dreamer's Breakfast is not only for breakfast or brunch since the whole thing is hearty. This one includes scrambled eggs, bacon, Hungarian sausage, and veggies with a choice of toast or rice on the side.
I love how fluffy and buttery the eggs are while the sausage is plump and juicy. Maybe if the bacon is on the crispier side, I would enjoy it more.
As I am saving the best for last, let me say that their Fish and Chips are just purely delicious. The french fries are crispy but nothing special. But the crispy batter and the freshness of the fish really stood out. It became even tastier when I dipped it on the sour and sweet tartar sauce.
See Also
The manager also let us try an upcoming dish called Signature Liempo and Tokwa. We like their take on this classic Pinoy dish since the tofu is bite-sized with lots of white onions. The liempo, on the other hand, is thinly breaded and packs umami!
Now, let's go to their drinks, specifically their coffees. I'm fond of Matcha, but I'm picky about it. Honestly, the Dirty Matcha from Coffee & Dreams hits the right spot. It's basically just matcha with a splash of espresso but I did not taste any bit of coffee in that one. It's creamy and calming at the same time, and the taste is similar to KitKat's matcha chocolate.
Aside from hot beverages, the cafe also serves various iced coffees and frappuccinos. The Coffee & Dreams Signature Blend is truly for those who have sweet tooth. It tastes milky with lots of coffee crumble. As for their Caramel Machiatto, it's on the stronger side but also still milky. The caramel notes are a distinct bet not overly sweet. This is something I would order if I need to be working late.
Finally, we had a taste of their two delectable cakes for dessert. The Chocolate Mousse Cake consists of three heavenly layers of light icings and chiffon. I like that the overall taste is leaning towards dark chocolate, a nice variation from the usual milky chocolate ones.
The Signature Mango Cake is so good, even better than the ones I had from some famous bakeries. It has two layers of pillow-soft spongecake with light buttercream icing in the middle. As a finishing touch, it's has chunks of sweet mangoes on top.
Overall, the whole experience stimulated not only our palate but almost all of our senses, in such a good way. We went home not only satisfied but also enthusiastic since we were able to recharge our minds.
Coffee & Dreams is open from 11AM to 10 PM on weekdays and 9 AM to 12MN during weekends and holidays. Make sure to follow their social media pages to know more about their announcements and promos!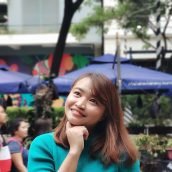 Queenie Lastra
Queenie Lasta got her bachelor's degree in Communications Research from UP Diliman. In her free time, she likes to read thriller novels, psychology books, and mangas. She believes in the importance of grit, hard work, and passion to become a great writer in the future.