Tea Ni Juan opens first branch in Camarines Norte, Bicol
Tea ni Juan continues its invasion! The brand opened its 1st branch in Sta Elena Camarines Norte Bicol Region. They sold more than 200 cups of creamy and delicious milk tea on its first day alone! Sibling franchise owners Iris and Josh Austria believe in the quality of the brand. This has become the brand's seventeenth branch since its launch last Christmas, December 25, 2020. From an add-on product feature of the Kadiwa Ni Juan, Tea Ni Juan has also turned into an instant hit amongst Filipino people.
Tea Ni Juan opens the first branch in Camarines Norte, Bicol
The brand's RED Team develops milk tea flavors and fruit juices that can be compared to international brands. They also carefully handpick ingredients imported from Taiwan. Dubbed as Milk Tea Ng Bayan, the brand reached more Filipino people. They launched a Buy 1 Take 1 Promotional Campaign that has seen people literally lining up to get a taste of the product.
It all started with the local government of Guadalupe Viejo jumpstarted the food franchise when they purchased twelve Tea Ni Juan / Dimsum Panda PH franchises.
They celebrated their Annual Fiesta to honor their Patron Saint, Nuestra Señora de Candelaria. Due to the pandemic, they didn't have traditional activities. Partnering up with Kadiwa Ni Juan, they gave away the brand's food cart businesses as the Grand Prize for their Grand Raffle Draw.
Of course, it sees people literally lining up to get a taste of the product. The brand has since evolved as a spin-off franchise for the Kadiwa Ni Juan. Then, it has seen tremendous growth and interest among local entrepreneurs.
For franchise inquiries, you may email Tea Ni Juan at

KNJFoodFranchise@gmail.com

 or call at (0977) 841-6456 or (0917) 107-5543.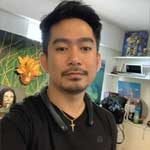 Josh Austria
Aside from being a businessman, Josh Austria has been working in PR and media industry for more more than a decade. From his years of experience as the Marketing and Advertising Head of Village Pipol Magazine, he has built strong relationships with creative people, brands, and organizations.