Guadalupe Viejo, Makati announces winners of 'Kadiwa Ni Juan' food cart franchise
Barangay Guadalupe Viejo, Makati City recently celebrated its Annual Fiesta to honor its Patron Saint, Nuestra Senora de Candelaria. Due to the pandemic, this year's celebration was far from the traditional activities. Nevertheless, the Council pushed through the celebration through online and livestream events, which has become the standard of event hosting in the new normal
.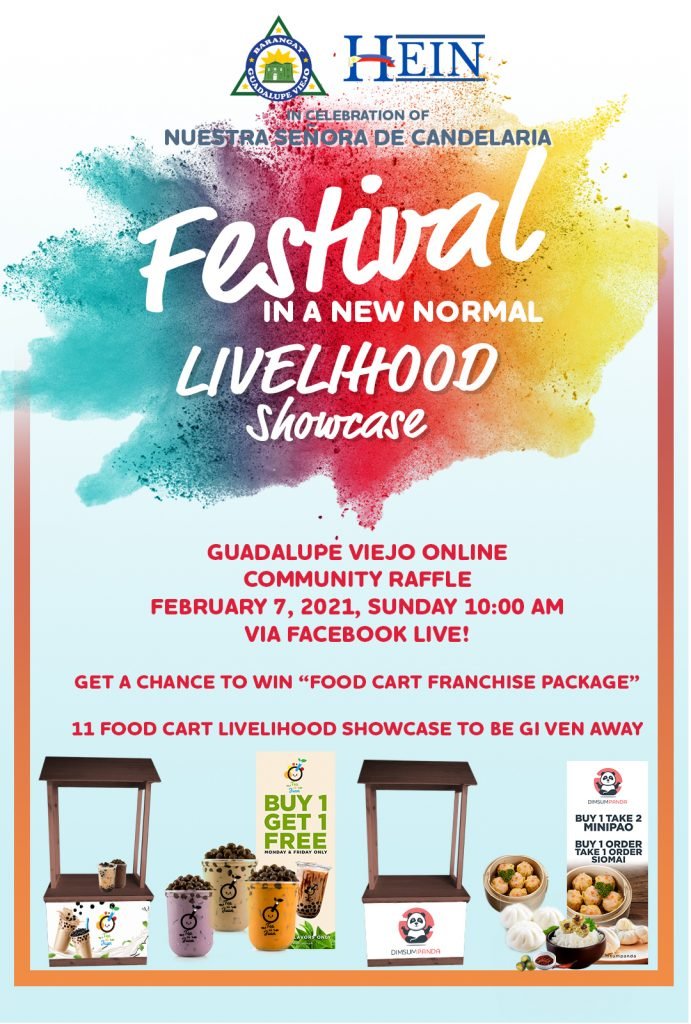 From Bingo Games to various fun activities, the entire community participated and was in anticipation of the Grand Raffle Draw held last February 7, 2021.  The excitement was for Guadalupe Viejo's Livelihood Showcase Prices (Food Cart Franchise), a move that encourages its constituents to become entrepreneurs and build a sustainable source of income for the winners
.
Guadalupe Viejo partnered with Kadiwa ni Juan Franchise, a convenience store and food business franchise is one of the fastest-growing franchise business in the Philippines.  As part of the Livelihood Showcase, Guadalupe Viejo got KNJ Franchise Tea ni Juan (Milk Tea) and Dimsum Panda (Dimsum) food cart business as its Grand Prizes.
LIST OF WINNERS
Tea ni Juan Milk Tea Business winners:
Cherry Sanchez,
Delie Deneros
Mary Hazel Kadili
Freddie Ligarao
Edmond Christian Altuna
Dimsum Panda Dimsum Business winners:
Venessa Enriquez,
Rolly Arongay
Teresita Escobil
Alvin Leonardo
Teresita David
For the grand prize, Mr. Arjay Azul took home the grand prize as he was awarded one (1) Tea ni Juan and one (1) Dimsum Panda Food Cart Business.
A Project spearheaded by its charismatic and visionary leader Honorable Heinrich M. Angeles, and supported by Ms. Agnes "Nhessie" Agustin and the entire Kagawad of Guadalupe Viejo, the project proved to be a massive success.
The project was also supported by Makati City's Honorable Mayor Abby Binay and Honorable Congressman Luis Campos.
Guadalupe Viejo is one of the most progressive barangay in the business capital of the country Makati City.
Mabuhay Guadalupe Viejo and Nuestra Senora de Candelaria!