The Kadiwa Invasion continues! The brand recently opened their ninth Kadiwa ni Juan Convenience Store. Aside from that, it also has an attached Tea Ni Juan Cafe Branch, its eighteenth branch yet at Aurora Boulevard Cubao Quezon City.
Kadiwa Ni Juan and Tea Ni Juan open in Aurora Boulevard, Cubao!
The first concept store located in a commercial building. Kadiwa Ni Juan and Tea Ni Juan's integrated design elements not normally found in a traditional convenience store to make the store stand. It comes for the quality, affordability, and of course, its aesthetics.
Franchise owners Mr. and Ms. Versoza Ganuelas had always dreamt of owning their "forever negosyo."
They finally started to have it and feel optimistic about the future of the business. Aside from that, it also quality and affordable products range from grocery products to ready-to-eat food. And, of course, their Kadiwa Ni Juan has an attached Tea Ni Juan franchise.
Founder of Kadiwa Ni Juan and KNJ Food Franchise Richie de Quina said:
"Tea ni Juan products were specially formulated to provide the REAL and SUPERIOR Milk Tea goodness to the Filipino people. From a by-product of KNJ convenience store franchise, Tea ni Juan has evolved into a brand that can now stand on its own feet and has seen the opening of 17 stores and counting nationwide."
From the first time the brand conceptualized the business, they decided to develop something that would set us apart from the competition. Knowing for a fact that there would be hundreds of brands in the Milk Tea industry, they had positioned it as the Milk Tea Ng Bayan. Aside from that, they also dubbed Kadiwa Ni Juan as the leading local convenience store franchise.
The milk tea brand combined elements. Of course, this includes their position as local brand to best-imported ingredients, and value for money. They slowly capture the Filipinos through gimmickry and superior quality. A product made by Filipinos for the Filipinos!
Tea ni Juan is the Milk Tea of choice for Every JUAN!
Once again, congratulations to Tea ni Juan Aurora Blvd Cubao!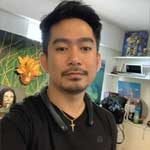 Josh Austria
Aside from being a businessman, Josh Austria has been working in PR and media industry for more more than a decade. From his years of experience as the Marketing and Advertising Head of Village Pipol Magazine, he has built strong relationships with creative people, brands, and organizations.