Sony officially unveiled Playstation 5 design and digital edition!
Sony Playstation became a childhood staple of almost every gamer and tech enthusiast all over the world. This iconic gaming console continues to evolve in terms of hardware, features, and games.  This 2020, Sony is still surprising us with its big reveal on Playstation 5's hardware design and a digital version. Moreover, it already announced numerous upcoming games for next-generation consoles.
PS5 will have a futuristic design
On an online streaming event called "Future of Gaming", Sony presented Playstation 5 as its next gaming console.  It has a remarkably modern-looking design that is far from the appearance of PS4. Its predecessor a more simple appearance with its black finish and parallelogram shape. Meanwhile, the PS5 includes a black-and-white color combination, matching the Dual Sense controller.  They will include this controller in the box as well.
An 8-core AMD Zen 2 CPU with a custom AMD RDNA 2-based GPU will power the PS5.  Sony said that it can provide 10.28 teraflops of power. Moreover, the console is built with a super-fast 5.5GB/sec 825GB SSD and will support Ray-Tracing, 8K, 4K at 120Hz, and 3D audio. Apart from that, it comes with a purpose-built stand so you can place either vertically or lay flat horizontally.
Furthermore, this new console will come in two variants. One with the 4K Blu-ray drive and one without it called the Digital Edition. The variant without the Blu-ray drive is relatively slimmer and with a more symmetrical and clean design. There are also vents on top of the PS5 to help in heat dissipation while the USB Type-A and USB Type-C ports are positioned on the front. Sony also revealed PS5 accessories that are going to be launched soon.
Lastly, Sony announced that the PS5 will have backward compatibility support for nearly all of the more than 4000 Playstation 4 titles that exist today. However, there's no word yet regarding its pricing and availability. We will keep you posted for updates as soon as the information becomes available.
What do you think of this design of PS5 so far?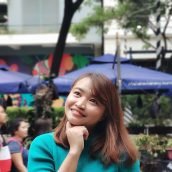 Queenie Lastra
Queenie Lasta got her bachelor's degree in Communications Research from UP Diliman. In her free time, she likes to read thriller novels, psychology books, and mangas. She believes in the importance of grit, hard work, and passion to become a great writer in the future.