SB19's WHAT? reaches 9-million views!
SB19 does not stop to dominate the scene! The music video for their phenomenal single "WHAT?" already reached 9 million YouTube views as of Sunday morning.
SB19's WHAT? reaches 9-million views!
They became the first Southeast Asian music act nominated in Billboard Music Awards. The category came from major fan interactions with the artist's music including streaming and global engagement, together with the global online voting results.
They spoke about this in an interview with Nelson Canlas on "24 Oras Weekend" on Sunday, published under GMA News. SB19's Justin shares that they didn't expect the nomination for Top Social Artist, let alone be alongside global acts BTS, Blackpink, Ariana Grande, and Seventeen.
Justin further said,
We were only hoping. But of course, we weren't expecting it because international artists have millions and millions of followers on social media.
On the other hand, Stell reveals that aside from their hard work and having Ama (Father) as their agimat (lucky charm), they also have someone to thank for. The P-pop group owes a huge part of their success to their fans, called A'TIN. The community consists of fans from the Philippines and abroad who remain so supportive and dedicated. They can be considered SB19's secret weapon.
On Sunday afternoon, the hashtag #ATINMayHandaan trended. In addition to the BBMA nomination, fans celebrated their "18th monthsary" as they order takeout from food brands that SB19 has endorsed.
Stell said,
Without a doubt, we wouldn't be here if not for them. Knowing A'TIN, they're very hands-on, working hard to spread the word about us.
Justin added,
We're already used to seeing A'TIN make noise for us on Twitter. They talk about us and introduce us and our music to others. Now, it's not just them congratulating us. There are other artists and personalities. We're happy to be appreciated.
SB19's fandom, A'TIN, continues to grow every single day—proof of how amazing the boys are.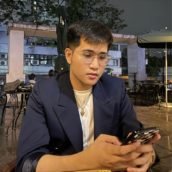 Raphael Garcia
Raphael is a person born between the generations of Millenial and Gen Z. He was produced by Cavite State University (Main Campus) with a bachelor's degree in Political Science. The lad has a fresh take on things, but can still stay true to his roots. He writes anything in Pop Culture as long as it suits his taste (if it doesn't, it's for work). He loves to wander around the cosmos and comes back with a story to publish.