Justine Luzares has caught the attention of viewers on TikTok with his impressive British accent. The video-sharing platform has turned out to be the perfect platform for him to express himself creatively. He had also always known that he wanted to write funny skits. However, he didn't consider becoming a comedian himself. Then, he started using TikTok. 
"I realized I can actually act the part. We're on TikTok to have fun and be entertained. Putting smiles on people's faces is the easiest way to sell your content to people."
Pour yourself a cup of tea & enjoy TikTok content from Justine Luzares
Apart from showing off his funny side, Justin's videos also gave him a chance to showcase his ability to put on different accents. It had become a talent he learned from watching movies. He first tried it out after seeing the 2004 movie, Troy. This starred Brad Pitt and Eric Bana.
"It was a long process. I started learning it when I was still in 7th grade. It didn't happen overnight. It took quite a lot of movies just to somehow master it."
Mimicking speech patterns of characters from the popular TV series, Game of Thrones, particularly Viserys Targaryen, also helped Justine refine his accent. Since then, he has learned how to do Indian and Australian accents as well.
Justin responds to a fan's request to do an Indian accent here.
Here's a sample of his Australian accent.
Born and raised in Leyte, Justine actually has a degree in Agribusiness from Visayas State University. He also graduated as a Cum Laude. Currently based in Alabang, he works as a process trainer in the BPO industry and does TikTok videos for fun. Among his videos, his Marites series also become his most popular, even reaching viral status on the platform.
"I have received overwhelming support every time I post a Marites video, especially the ones you can duet. I guess people just found an excuse to showcase or just try a British accent through my videos."
Watch Justine's Chismosang Marites ala Pride and Prejudice, gossiping like a stereotypical Filipino neighbor, but with a British accent:
This is what Chismosang Marites would be like as a Game of Thrones character.
Discover all the hilarious comedy creators that you can follow on TikTok. Download the app on your

iOS

and

Android

devices today to get started.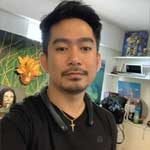 Josh Austria
Aside from being a businessman, Josh Austria has been working in PR and media industry for more more than a decade. From his years of experience as the Marketing and Advertising Head of Village Pipol Magazine, he has built strong relationships with creative people, brands, and organizations.