Indeed, Netflix has always been giving us variety and quality in terms of movies and TV series. This time, the biggest streaming platform kicks up a notch as it brings Dwayne "The Rock" Johnson, Gal Gadot, and Ryan Reynolds into one awesome film. Yes, we're talking about Red Notice!
Three biggest movie stars in a heist-themed movie
During a press release for APAC in Singapore held last week, Netflix has invited our team so we had a glimpse of what to anticipate on this star-studded movie. In his introduction, the moderator described Red Notice as 'an epic, globe-trotting heist adventure where no one is as they seem, and no alliance is built to last.'
Basically, the title of the film refers to an Interpol-issued alert to find and capture the world's most wanted criminals. It's the highest level warrant to hunt and capture the world's most wanted thief.
To solve the case, John Hartley (Dwayne Johnson) is a top profiler from the FBI who had to team up with Nolan Booth (Ryan Reynolds), a notorious art thief. Together, they have to catch the world's most wanted art thief "The Bishop" (Gal Gadot).
Aside from the fast-paced thriller plot, we're definitely excited about the dynamics of this trio. During the press con, all three of them shared some bits about working on this highly ambitious film. So what are the other reasons for not missing the premiere of this Netflix show?
Genuine friendship off-screen that manifests onscreen
Reynolds said that the three of them has already a kind of off-screen friendship and camaraderie, the exact same thing we're seeing on screen. He said that Netflix wanted that on the big screen, transferred over to Red Notice.
Dwayne Johnson aka the Rock also elaborated on their deep-seated friendship during the interview. He said the overall experience was great, mainly because of the content of the script.
"And I think a lot of times with something like this, the content of the script really will dictate, a lot of times what the set is going to feel like. And so the movie is big. It's fun, it's
ambitious, as Gal has said, with some twists and turns and surprises, and we had a great time.
We also had to buckle down because we shot it during COVID, so that was very challenging."
Moreover, there was a question about the most interesting scene in the film, without spoiling it up of course. Reynolds answered that it's a sequence in the chapel in the prison where they meet Gal's character for the first time.
"And that, I would say, was probably the most interesting scene to shoot for me
because it was the first time all three of us had shot together in one room. And that was exciting. And a lot of fun for us, and it was the whole kind of scene was like a chess game."
Gal Gadot agrees with Reynolds when Wu asked the same question. On the other hand, Dwayne Johnson said his favorite would be the scene in the end with the cinematic shot of the boat in the middle of the ocean.
Best fighter among the trio?
Ryan Wu also raised an intriguing question for the three main casts of Red Notice. He asked which one of them is the best fighter and which one of them is the weakest?
Even though it's a tough question for him, Reynolds answered that it's a toss between Dwayne and him for the weakest. He added,
"So I would say that that Gal is probably the best fighter because all-around fighter Dwayne if he gets his hands on you, you're done. And me, I'm not a fighter. I'm mostly, you know, a bit of a chicken. So you'll see in the movie, I usually try to avoid the fights as much as possible and stick to the stealing."
We may all agree that Gal Gadot as a villain is a 360 degree from her iconic character in DC Films' Wonder Woman. As for her personal experience, the amazing and versatile actress seems to be thrilled with this change of pace.
"You know, as an actor, you want to be able to explore different colors and different qualities in the characters that you play. And this one certainly gave me this opportunity and I super enjoy portraying The Bishop."
A brilliant combination of style, comedy, and action
For Dwayne Johnson, what makes this film special is their intention. He said that they really intend to raise the bar with our action sequences.
The star admitted that the three of them are no strangers in dealing with action scenes. But Red Notice posed a challenge for them with its great action scenes and storytelling.
"So it was our intention. I think that really separates us, but also to try to thread the needle of great action with a little bit of levity in every piece of the action. That's why you'll see in our movie as heightened as and intense as our action sequences are. There's a lot of great comedy and a lot of styles that it looks so beautiful."
Judging from the interviews and the official trailer, Red Notice seems to have a lot of cliffhangers, laughter, and exceptional twists. The streaming giant did a splendid job here, bringing the three of them into this film, which seems almost impossible.
We are all excited to catch the premiere of Red Notice a few days from now, November 12 to be exact on Netflix.
Mark your calendars!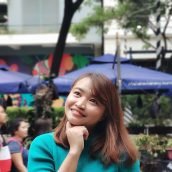 Queenie Lastra
Queenie Lasta got her bachelor's degree in Communications Research from UP Diliman. In her free time, she likes to read thriller novels, psychology books, and mangas. She believes in the importance of grit, hard work, and passion to become a great writer in the future.