Twitter is upturned Tuesday last night as fans of KenTin took to number 1 Philippine trends, to their delight. This is after a TikTok video dropped through SB19's official account, showcasing the bunso line in a cute dance cover.
The much hoped-for "KenTin Tiktok when?" is now finally over. And one thing is for sure, fans felt like they won.
Get to know the adorable #KenTin
Comprising of SB19's youngest members, KenTin stands for the duo of Ken Suson (KEN) and Justin de Dios (TIN). It is a tandem formed between the solid brotherhood of the P-pop group members, as supported by their ever-dedicated fans.
Among the SB19 fandom, sub-units for KenTin have since been established, with admirers, by and large, calling themselves other names. Although as A'tin, it's given that their support is in-tact for all five members.
Around 7 pm last night, to not much anyone's expectation, SB19's official TikTok account surprised the fans. Not with a new song, a vlog content, or an announcement, but a KenTin TikTok dance cover!
KENTIN WAGI
The 19-second video featured Ken and Justin bopping to Meghan Trainor's "Me Too." It is a twosome dance challenge in TikTok that is mostly done by couples. So to witness the bunso's of SB19 take on the trend, fans just can't help but feel amused.
Moreover, seeing as the clip showed the two members in a previously worn outfit, fans quickly picked up that it's long been taped. The unannounced dropping still left the video with more than 1M views, over 240,000 likes, and almost 13,000 comments as of writing.
From late midnight until this morning, the hashtag #KENTIN placed at number 1 in the Philippines trend list on Twitter, with close to 30,000 accumulated tweets.
Meanwhile, on the reply section of TikTok, a hilarious comment from a curious casual attracted the attention of the fans. The user claimed he mistook KenTin as a new loveteam as it's trending, only to realize she was so wrong.
A'tin are very happy.
It will be difficult to say how long until they get over. From manifesting, their dreamy bubbles finally came true. And it goes to show just how life is full of unexpected satisfaction.
Happiness is not absolute. Sometimes it is attained through sleeping, sometimes through eating, but sometimes, through KenTin.
You can watch the much talked-about KenTin TikTok below: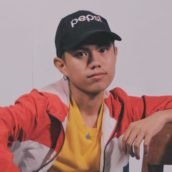 Renzneil Robles
Renzo is an introvert who prefers to do things at his own pace. Unlike most writers, he reads lazily. Watching Korean dramas at night is his constant source of comfort. Although oftentimes commended for being outspoken, he speaks better through writing than with his words.