There's always light amid the darkness. Marlo Mortel shows off his passion for music and his skill as a songwriter. Aiming to provide peace and calmness, Marlo produced a heart-warming single Bituin. This becomes his second single this year after Mahina.
Marlo Martel revealed that Bituin was written for his best friend, who currently resides in Vietnam
In an ABS-CBN report, Marlo revealed that he wrote Bituin for his best friend who now lives in Vietnam. He also detailed that they found peace in nature.
"I wrote this song for my best friend who now lives in Vietnam. We have always found peace in nature. It's all about noticing that light amid the darkness. You know that feeling you get, when at the end of a busy day or when life throws a lot at you, you look up to the sky, and you'd feel better. Stars give hope and a sort of calmness to us human beings."
The song captured my heart. It reminds me that there will be always light even if it's dark. You just have to find that light within you. Look at the light that has always been within you, not the darkness that devours you. Also, the sound of the waves feels very calming.
Marlo, then, said that he incorporated the lessons he learned in life
He's also involved in everything from the arrangement to the final mix, from the music elements to the voice techniques. Mortel went on to say that "Bituin" came about as a result of his conquering personal struggles last year, during which he understood the need for self-care. Marlo further stated that writing the two songs served as therapy for him during difficult times.
"Hindi ko pala natututukan kung ano 'yung nagma-matter the most which is our self, our inner being. After ko maranasan 'yung anxiety, it went on for months. Nahirapan talaga ako. I stopped my vlogs. I stopped releasing songs. Napagod ako. The best thing to do is to learn from it and move on from that situation and become a better person. That's what happened to me."
Furthermore, he also published his debut track Mahina, for fans to be a source of strength. It tells an honest look at how most people managed life during quarantine.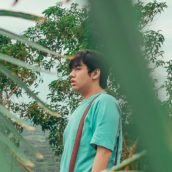 Ivan Royce Pedron
Ivan Royce is a journalism student from Cavite State University. Aside from being a writer, he is also a video content creator, photographer, and graphic designer. He likes to drink…. Coffee, tea, or maybe alcohol. Ask him for recommendations!