BGYO goes aboard new musical heights with its second album, 'BE: US'
Photo from BGYO (Twitter)
Dubbed the breakout act of P-Pop, BGYO is embracing a brand-new music era through their sophomore album, "BE: US."
BE: US is the quintet's follow-up to "The Light," dropped more than a year ago on October 2021. On this debut release were the hit pieces "He's Into Her" and "The Baddest," which introduced the boys to the P-Pop scene. It is also from where they earn the admiration and support of their growing fanbase called ACEs.
Meanwhile, BGYO's comeback record consists of eight songs, including the key track "PNGNP." An official music video featuring the members premiered on YouTube last November 3. The said MV garnered almost 100k views to date and motions a dreamy setting as it implies hints of short-lived romantic fantasy.
Moreover, other tracks included in the sophomore album are "Be Us," "Game On," "Panahon," "Laro," and "Extraordinary." Finally completing the discography are "Tumitigil ang Mundo" and "Magnet," which had MVs released earlier this year.
On November 4, Star Music PH took to social media to announce BGYO's BE: US soaring high on the iTunes chart across different countries. It peaked at the number one spot in the Philippines, Hong Kong, Saudi Arabia, Singapore, United Arab Emirates, and Vietnam. This achievement happened only a day after launching BE: US.
BGYO composes of bandmates Gelo, Akira, JL, Mikki, and Nate. Formerly known as SHA Boys during their training period, they debuted on January 2021 with branding as the aces of P-Pop.
BGYO had notable achievements this year, having been named Preview PH's Most Promising Talent in Musician's Category. They were also given the Outstanding Boy Group of the Year title during the 2nd Diamond Excellence Awards.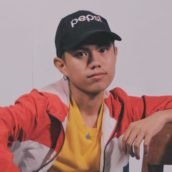 Renzneil Robles
Renzo is an introvert who prefers to do things at his own pace. Unlike most writers, he reads lazily. Watching Korean dramas at night is his constant source of comfort. Although oftentimes commended for being outspoken, he speaks better through writing than with his words.