We just spotted the cutest interaction between the two realme ambassadors on IG.  Could this be a sign that a possible 5G device from realme is finally coming to the Philippines?
With 5G becoming more and more widespread across the globe, realme fans and tech enthusiasts in the Philippines are getting excited to get their hands on the next 5G offering from realme. And who could blame them? The brand has launched so many smartphones that are of top quality but with reasonable price tags. Hence, it's really understandable that a lot of people are anticipating this brand to release its latest 5G offering here in the Philippines.
Kathryn Bernardo tries her hand at mobile gaming
Two months ago, realme tapped Filipina superstar and primetime queen Kathryn Bernardo to be the newest face of its brand in the Philippines. This is to emphasize the huge role of a powerful smartphone in the digital age, especially for the youth. This move from realme simply proves that it's not going to slow down in revealing very capable devices.
With Kathryn as its brand ambassador, this fast-rising brand can surely inspire more young, passionate, and bold fans. They can leverage the power of technology in their quest for success. According to realme, the popular actress perfectly embodies every realme Squad member. Why? She's fun, determined, and unapologetically real.
Aside from this, the showbiz royalty is making use of technology and social media to maintain her connection with the fans and supporters. In fact, she posted a photo on her Instagram account casually playing a mobile game on her stylish realme 8 phone. The caption reads: "Tried playing a mobile game for the first time and got hooked right away. Now I'm glued to my realme 8 even more. " #InfiniteVictorieswithrealme8 #CaptureInfinitywith8Series
Shortly after, we saw iconic cosplayer and gaming royalty Alodia Gosiengfiao reshared the photo on her IG stories. Her caption reads, "It's about to get more exciting from here. Are you ready to experience infinite possibilities with 5G?" #InfinitePossibilities with 5G.
Definitely, this cute interaction between the two celebs may serve as a teaser for a possible launch of realme 8 5G in the Philippines. However, the tech giant is still quiet about the launch date and other details. So if you want to know the updates about realme, hit that follow button on Facebook and Instagram.
What do you guys think?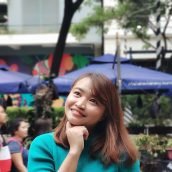 Queenie Lastra
Queenie Lasta got her bachelor's degree in Communications Research from UP Diliman. In her free time, she likes to read thriller novels, psychology books, and mangas. She believes in the importance of grit, hard work, and passion to become a great writer in the future.