Angel Locsin shared an inspirational message regarding health workers on Instagram last Wednesday, September 8.
The actress-philanthropist talked of their importance in the midst of the global pandemic caused by the COVID-19 disease.
First, she sympathized with people who cannot personally comfort family and friends battling the virus.
Angel remains hopeful that they can get through this bereavement soon, saying,
"To those who can't go & console family & friends fighting their battles alone. I feel you. I wish for you to overcome whatever it is you are going through,"
Also, she reflected on how the world could go on moving without politicians, businessmen, the police, and even actors like her.
However, it would never survive if healthcare workers did not survive, especially in this time of a health crisis.
She said,
"This crisis has made me realize that the world can work without politicians, businessmen, police, and even without actors like me, but the world can never work without health workers," 
Angel concluded her post by thanking all health workers for all they do to help in people's battle against COVID-19.
"Again, thank you for all that you do. Sending everyone strength, hope, and love."
Furthermore, Angel's celebrity colleagues expressed their love in the comments section for her tribute.
These include Dimples Romana, Iza Calzado, and Arci Muñoz.
Additionally, netizens and celebrities have praised Angel for being a silent helper to those in need during this pandemic.
In recent times, Angel hosted the public service program Iba 'Yan which ran from June 2020 to June 2021.
You are truly an inspiration, Angel! Thank you for everything you have done for us in this time of crisis.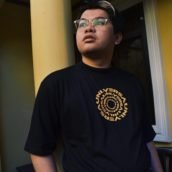 Kobe Adam Joshua Laurena
Kobe Adam Joshua Laurena is a writer who loves to tell stories from the perspectives of different people and everyday life. Apart from the pen, he loves to pick up the lipstick to transform into his frustrated drag persona: Anita Good Lovin'. He aspires to combine his love for writing and drag by creating a novel, short story, or screenplay about local drag queens in the future. He also has an obsession with sitcoms, women's pro-wrestling, and Funko Pops.