ALAMAT to perform an unreleased song at the PPOPCON
Photo via ALAMAT on Twitter
Not only the fans but everyone attending the 2022 PPOPCON will surely be thrilled as ALAMAT recently unveiled something astonishing.
Through a social media post on April 03, the P-Pop group revealed the gift of an up-to-date music release for their admirers.
Aside from the brand-new project being news itself, ALAMAT also disclosed another twist on this surprise― they will be performing the new song at the PPOPCON!
Calling all Magiliws, are we ready?
Witness ALAMAT as they debut a new single at the 2022 PPOPCON
The 2022 PPOPCON is the ultimate fan gathering and celebration of Filipino pop culture and music. Hosted by the Smart Araneta Coliseum, this 2-day event is full of fan-engaging activities. Moreover, it will feature performances from promising and established P-Pop acts.
Coming together with other artists with the same passion for Pinoy pride, ALAMAT will be on the concert lineup. And not long ago, the sextet teased the attendees about what shall they expect from them. Including, of course, an announcement of a new song!
ALAMAT's Sa Panaginip Na Lang
For the time being, very little is known about ALAMAT's upcoming track called 'Sa Panaginip Na Lang.' Following a countdown calendar prior, the revealing of the title song happened on April 04.
While it appears that there will be no music video, ALAMAT will perform the new single exclusively at the 2022 PPOPCON. Although it might be too early to tell, the track is highly suspected to be romantic based on the lyric spoilers. We only need to watch out!
Meanwhile, for those who cannot attend the PPOPCON, you can catch the radio debut performance of Sa Panaginip Na Lang before its digital release on April 13.
Magiliws! Are you all excited? To stay updated, follow ALAMAT on Twitter, Facebook, and Instagram.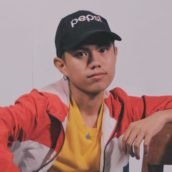 Renzneil Robles
Renzo is an introvert who prefers to do things at his own pace. Unlike most writers, he reads lazily. Watching Korean dramas at night is his constant source of comfort. Although oftentimes commended for being outspoken, he speaks better through writing than with his words.