At last, the biggest entertainment festivity tributed to the growing P-Pop industry is happening through the 2022 PPOPCON!
Coming this April 9-10, PPOPCON is an event celebrating Filipino talents and strengthening their connection to the fans. Furthermore, it is a first-ever and much-awaited live gathering also streaming online.
On its second day, PPCON caps off the convention with a concert from established P-Pop acts. To add, it will take place at the reopened Smart Araneta Coliseum, welcoming the return of physical audiences after two years.
Thus, as the 2022 PPOPCON signals its forthcoming, it is only the right time to get familiarized with the artists to be present. That said, here is your concert lineup:
BINI
First, their name derives from the local term Binibini, which translates to a young lady. Formed through ABS-CBN Star Hunt Academy, BINI embodies the idea of a modern Filipina.
BGYO
A five-piece group formerly known as SHA Boys, also under ABS-CBN management. BGYO debuted in 2021 and has since then reached milestones as the dubbed aces of P-Pop.
MNL48
MNL48 is the sister group of the high-selling Japanese phenomenon AKB48. Regarded as among the pioneering P-Pop girl groups, they have a growing fanbase across the globe.
Press Hit Play
Simply PHP, this remarkable ensemble is a P-Pop powerhouse group. They have but an exceptional advantage as they are composed of well-versed members in the industry.
1st.One
True to their branding, 1st.One is the first Filipino act to perform at the famed Seoul Music Awards. Fiery and talented, they aspire to become an inspiration to the community.
Alamat
Surely, Alamat is the definition of diversity, with its members coming from various parts of the Philippines. Promoting the Filipino culture and sensibilities through music is their trademark.
See Also
4th Impact
Indeed, they are seasoned performers who are riding their popularity after winning many international talent competitions, Like their name, 4th Impact has an established reputation.
SB19
This history-maker leading quintet paved the way by bringing Filipino pride to global admiration. Acclaimed as the kings of P-Pop, SB19 is responsible for the monumental rebirth of the genre.
Meanwhile, KAIA and VXON from the day-1 convention will also be on day-2 as opening acts.
Putting them all together, there you have our complete concert lineup! Be part of building a stronger PPOP community and furthering our local talents globally.
See you at the 2022 PPOPCON!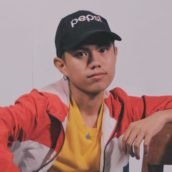 Renzneil Robles
Renzo is an introvert who prefers to do things at his own pace. Unlike most writers, he reads lazily. Watching Korean dramas at night is his constant source of comfort. Although oftentimes commended for being outspoken, he speaks better through writing than with his words.