Pinoy Pop Convention or PPOPCON, the first-ever ultimate fan gathering and celebration of Filipino pop culture and music, is finally happening!
Taking place at the Araneta Coliseum, this will feature P-Pop artists in engaging activities for the amusement of fans. It is also a hybrid festivity that one can experience physically or online by streaming live.
With this much-awaited event approaching, a press conference was recently held last March 30 at the Novotel Manila. Graced with the presence of P-Pop groups also participating in the convention, a glimpse of excitement is what they delivered.
What should we expect from the 2022 PPOPCON?
The Big Dome's biggest entertainment event
Known as the city of firsts, Smart Araneta Coliseum is a hallmark of history, particularly for the entertainment industry. Unfortunately, the pandemic was an obstacle to its continuity, leading many artists to resort to remote performances.
After two long years, the Big Dome reopens with the 2022 PPOPCON as its inaugural attraction! It is a mark of the comeback of live shows with the return of physical audiences. As Uniprom COO Irene Jose said, it is a much-awaited larger-than-life performance you should not miss!
PPOPCON is a milestone
Connecting thousands of fans and the roster of artists is the aim of PPOPCON. It is to take the time that calls for acknowledging the growing P-Pop community that thrived even amidst the pandemic. Furthermore, elevating Filipino talent to the international scene is one of its goals.
Andhie Salutin, the event project head, stressed what PPOPCON 2022 is. It's a celebration not just for the fans but for the richness and diversity of Pinoy Pop culture and music.
Witness your favorite P-Pop artists on-stage
Of course, the highlight of the 2022 PPOPCON is the showcase of talents both from established and promising P-Pop acts. On April 9, the convention will happen at the New Frontier Theater with exciting activities and booth exhibitions for fans. 
Moreover, DIONE, CALISTA, G22, KAIA, R Rules, DAYDREAM, Ppop Generation, and VXON are the first-day lineup.
Meanwhile, on April 10, the convention continues but with a concert capped off by the hottest P-Pop groups. There to give you live performance are 1st. One, PHP, Alamat, BINI, BGYO, MNL48, 4th Impact, and SB19.
There is no stopping, the PPOPCON 2022 is here! For tickets, you may visit KTX.ph or Ticketnet Online. See you there!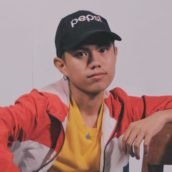 Renzneil Robles
Renzo is an introvert who prefers to do things at his own pace. Unlike most writers, he reads lazily. Watching Korean dramas at night is his constant source of comfort. Although oftentimes commended for being outspoken, he speaks better through writing than with his words.