Many Filipinos, in general, are into sweet things like chocolate, ice cream, leche flan, or others. So whenever we want to reward ourselves with a non-alcoholic beverage, we often order frappes or milk teas, right?
Premium-tasting yogurt blended with luscious fruits or chewy purple rice
However, trying yogurt with purple rice is totally unheard of by a lot. Before you say "gross", let me share my personal encounter with Yogost PH drinks!
I'm a dairy-lover because I like flavored milk, ice cream, and yeah, even yogurt. But the thing is, I only consume the latter because of its health benefits. We are pretty familiar that yogurts are a good source of vitamins and probiotics that are good for your gut. Not only that, it has plenty of nutrients like calcium and it also contains protein. In short, it's good for your body.
So you see, I don't see it as a food that I can indulge. But I was completely wrong! I was able to enjoy my yogurt drink with purple rice like a happy kid.  There are so many flavors to choose from but I had my favorite ones already. Yogost PH has created four series: Rich, VC, Fruit, and Blossom Series. Every series consists of four different drinks except for the Fruit Category since it has six flavors. I'm pretty sure that in that wide variety, you'll be able to find your perfect match.
Yogurt as a healthy but yummy treat for yourself
I must say that the packaging looks so cute and adorable with pastel-colored lids. The container is made of clear plastic so I can see clearly the ingredients and amount of my beverage. With this well-thought packaging, you can easily flaunt your Yogost PH drink on your Instagram or Facebook story.
Even though I was hesitant at first, I can say that I like the Yogost Purple Rice because it's creamy and no sour, rancid aftertaste. The purple rice is kind of sweet and chewy so it complements the tangy flavor of the yogurt. I think kids will love the "Love You Strawberry Much" because it's like drinking strawberry-flavored milk, but definitely healthier.
Feeling that you need an immunity booster during this rainy season? Perhaps, the best thing to try is the drinks from the VC series. The harmony of the fresh fruits and green tea, with a hint of yogurt, is just refreshing. So, they're still perfect for summer or those hot and humid days.
At last, my favorite from all of them is the "Would Jujube My Date" flavor. For those who are not familiar, jujube is a kind of fruit, more like red dates. It has an earthy kind of flavor that somewhat brilliantly balances out the sourness. It's really effective since I requested my order to be extra tangy.
All-in-all, I had a terrific experience with all of the yogurt drinks and I just have some preferences like any other normal person. I noticed that their newest shop in SM San Lazaro looks pristine and modern with new equipment and industrial design. And I think that this drink is very affordable and gives you value more that you're paying for. I feel full when I finished my cup and my drink only costs 125 pesos — way cheaper than high-calorie drinks like milk teas and iced coffees!
Yogost has at least 71 stores including those in Australia, New Zealand, Hong Kong, China, Canada, and Malaysia. It will also soon open in Singapore, Indonesia, and the US. Here in the Philippines, they have four branches in Ayala Malls Manila Bay, Greenhills Promenade, and Kapitolyo Delivery Hub. Soon, they're going to open in SM North Edsa. And on October 17, they're launching their newest branch in SM San Lazaro!
Speaking of its grand opening, Yogost PH has special surprises and promos for those who will visit their SM San Lazaro during that day. For example, you can get 1 FREE Yogost Purple Rice for every purchase of any drink on opening day. You can get as many as 5 free Yogost Purple Rice. There will be exclusive giveaways and prizes worth up to PHP600 for its first 100 customers. But you shouldn't worry if you can't go to their physical shop since Yogost drinks are available via GrabFood, Foodpanda, and Lalafood.
To keep updated on its announcements and promos, you can follow Yogost PH on Facebook and Instagram. Go ahead and indulge in the sweet and sour goodness I'm talking about!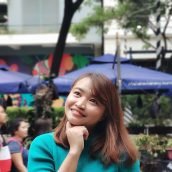 Queenie Lastra
Queenie Lasta got her bachelor's degree in Communications Research from UP Diliman. In her free time, she likes to read thriller novels, psychology books, and mangas. She believes in the importance of grit, hard work, and passion to become a great writer in the future.