VP/Catalog Mommy Bloggers in the Philippines
Who in here hasn't heard the saying that "it takes a village to raise a child". Yes, mothers need tips and comfort they can get but millennial moms mostly rely on parenting blogs or mommy blogs.
Tons of mommy bloggers here in the Philippines post content every week. This means that people will find the right information at any time.
These blogs become a convenient source of information for a lot of people, especially parents or parents-to-be.
It will be easy for moms to know some of the tactics to help them navigate motherhood.
Our team in the Village Pipol Magazine has curated a list of top local mom bloggers. Hence, it will be easier for moms to navigate motherhood and family life.
Note that we based the list on their followers on Facebook and Instagram. Certainly, this serves as a gauge of their social media popularity.
---
This is a personal blog aiming to inspire women, wives, and most especially moms. It helps them to live a joyful life within the budget. In this era of generation Z, the blog wants to share that there's also joy in simplicity and frugal living.
---
"Mommy Pehpot" created her blog as her breathing post. It serves as her outlet and a place where to share her experiences and struggles as a mom. Impressively, a supermom with a big family of 5 kids.
---
The blog by The Kitchen Mom is about updates and reviews. She writes about food establishments, travel insights, stories, and experiences of a stay-at-home mom.
Facebook 152K followers
Instagram 11.9K followers
---
The blogger behind the Macho Mom is a single mom who left her job as a software developer. Just like a hero, this is to look after her son. Now, she writes a bunch of topics including, skincare, fitness, pop culture, sustainable living, and many more.
Facebook 37K followers
Instagram 62.5K followers
---
Established in 2014, the group is open to all Filipino mommy bloggers and has a growing member count on Facebook. They aim to influence the community to have better and wiser mothers, consumers, and citizens.
Facebook 33K followers
Instagram 20.3K followers
---
Began in 2021, Mommy Practicality is a light and positive blog and social media content. It aims to inspire and influence readers to choose practicality.
Facebook 24.4K followers
Instagram 17.2K followers
---
Pinay Ads is a lifestyle blog that was founded in August 2008. Iris Acosta writes about entertainment news, technology trends, travel tips, food, family, relationships, as well as, parenting, among others.
Facebook 23K followers
Instagram 27K followers
---
This is a lifestyle and parenting blog established in May 2016. Momi Berlin shares mostly personal narratives, mommy tips, and thrilling discoveries.
Facebook 22K followers
Instagram 17.8K followers
---
Lhyzie Bongon writes anything about beauty, fashion, food, entertainment, health, lifestyle, mommy, and anything under the sun. Aside from this, she also manages her own health and finance blog.
Facebook 21.4K followers
Instagram 53.8K followers
---
Eihdra Gatchalian is a mom blogger, foodie lover, hoards beauty products, fashion/lifestyle/health enthusiast, and a tech noob.
Facebook 20K followers
Instagram 50.9K followers
---
Note: Village Pipol Team will add another batch to this list of mommy bloggers every month. Stay tuned for updates. If you want your favorite website to be included in next month's ranking, you can email us at info.villagepipol@gmail.com. Our team will review if your suggested mommy blogger joins the top list based on Facebook followers.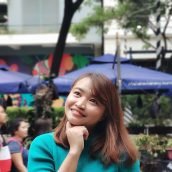 Queenie Lastra
Queenie Lasta got her bachelor's degree in Communications Research from UP Diliman. In her free time, she likes to read thriller novels, psychology books, and mangas. She believes in the importance of grit, hard work, and passion to become a great writer in the future.