P-pop royalties SB19 will be the first artists to perform at the Smart Araneta Coliseum after a long while. To celebrate the quintet's three years of embarking on music and milestones, a two-day concert will be held on November 27 and 28. 
Furthermore, a virtual media conference was conducted on Tuesday to discuss the other details of the much-awaited event.
The hallmark of 'The Big Dome'
Smart Araneta Coliseum, also known as The Big Dome, is one of the largest indoor arenas in Asia. In the Philippines, it has honored performances from not only acclaimed locals but the biggest international personalities as well. 
It is such a prestige. That is to say, is often considered a holy grail for music artists.
In March 2020, SB19 supposedly performed in Araneta Coliseum through Dunkin' Presents: Give in to SB19 concert. But it was postponed indefinitely due to the pandemic, causing everyone much dismay.
More than a year has passed, and the dream for the P-pop group and its fans is about to come true! They will be the first act to perform at The Big Dome after restrictions brought by the COVID-19 crisis.
SB19' Our Zone: 3rd Anniversary Concert
It was on October 23 when SB19 revealed their 'Our Zone Concert.' Besides the many surprises dedicated to A'TIN, it's only a portion of a month-long celebration for the group's tertiary anniversary.
Thus, from their catchy introduction "get in the zone, break!" they derived the playful denomination.
Looking back, previous concerts of SB19 included "Get in the Zone" in 2019-2020, and "Back in the Zone" earlier this 2021.
At the media conference, leader Pablo disclosed the reason behind Our Zone:
"Since we're three years in the industry, we wanted to talk about the 'zone' itself. Ano bang meron, ano'ng hatid, ano'ng pakiramdam kung nasa zone?"
To add, youngest member Justin shared an interesting insight. Our Zone can be shortened to OZONE— a chemical compound in science with a formula of O3. Hence, it stands for "our third anniversary."
What to expect from the concert?
Although broadcasted virtually, SB19 will be performing live at the Araneta Coliseum for both two days: November 27 and 28.
And for the first time, they will showcase three new songs at the concert excluding the tracks from their E.P, Pagsibol.
"Yung three new songs po namin, iba-iba po yung genre. May ballad, mayroong parang gospel-type, 'yung last one medyo retro 'yung dating— '70s disco vibe"
Pablo said that the new songs have been recorded already prior to this concert. So fans should expect a studio version release. But at the moment, the privilege to listen to it exclusively is theirs to grab.
Moreover, Stell, the main vocal also teased for up-to-date choreographies. He hinted for A'TIN to anticipate the twist in performances which they further described as nonetheless, "explosive."
IN THE ZONE: The guest performers
Our Zone consists of a two-day concert starting from 5 pm, with different setlists. Not long ago, SB19's social media platforms introduced the concert's guest performers:
[D-4]

📣 Let's meet our guest artists for the #SB19OZAnnivConcert!

Join @4thImpactMusic, @BonifacioAc, @josuengmusika and @TheJuans_BAND in celebrating three years with #SB19!

🎟 Buy your tickets at https://t.co/iKcdavGIrP or at https://t.co/AL1037Ihs8!

FOUR DAYS TO OUR ZONE pic.twitter.com/mdSWQ2SCb9

— SB19 Official 🇵🇭 (@SB19Official) November 23, 2021
Along with them are girl group 4th Impact, dancer AC Bonifacio, rapper Josue, and pop-rock band The Juans. These prominent names in the industry are familiar to fans, as they all had previous collaborations with SB19 this year.
Lastly, SB19 main rapper Josh shared his happiness in this 'dream come true.'
"Super overwhelming and happy kami na finally it's happening. Talagang makakapag-perform na kami sa Araneta. Before nga po, nangangarap lang kami na sana in the future, makapag-perform sa stage na ito.
Purchasing of tickets is ongoing and available at ktx.ph or sb19.ozone.com.
Are you coming, A'TIN? See you!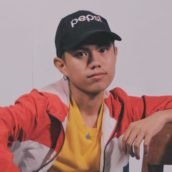 Renzneil Robles
Renzo is an introvert who prefers to do things at his own pace. Unlike most writers, he reads lazily. Watching Korean dramas at night is his constant source of comfort. Although oftentimes commended for being outspoken, he speaks better through writing than with his words.