Weight is one of the most important health concerns people face today. Most of us have know that being overweight or obese can cause several common causes of heart disease, stroke, type 2 diabetes, and even cancer.
How can this smart scale motivate you towards a healthy lifestyle?
Thankfully, there are many electronics brands that designed a smart scale to benefit health-conscious consumers. One of them is realme as it is going to unveil its first-ever smart scale in the Philippines. This scale has a sleek design and made from high-quality glass and polycarbonate material. It comes in two classic colors, blue and white and it has a hidden LED display made of tempered glass.
Basically, it's a fitness monitor that helps us achieve or maintain physical fitness. But how realme Smart Scale can do that? It provides a wide array of information you need to analyze and monitor yourself. For an instance, it has a real-time heart sensor and can show static heart rate information. Moreover, this smart scale highlights an accurate Bio-impedance Analysis (BIA) sensor. It means, it can calculate your body fat and muscle content, and others.
In addition to these features, the realme equips this home device with 16 types of health measurement data. So how can you view all of the information we mentioned above? With the help of the realme Link App, you can have a thorough health report each time you use it.
By using the scale and the app, you can easily have an idea regarding your health status and make wise decisions for your fitness goals. This is also good to share with your family members since it is able to store multiple health profiles. There can be an exclusive account for everyone and the scale will match them according to age, gender, and height.
Even your pets can use this too! How? This realme device sports a special small weight mode which can accurately measure the weight up to 10 grams for pets or other small items. Last but not the least, realme claims that this one can last up to 360 days of use. No need to frequent recharge!
What is your favorite feature or function so far?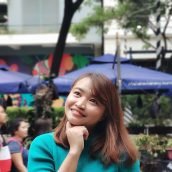 Queenie Lastra
Queenie Lasta got her bachelor's degree in Communications Research from UP Diliman. In her free time, she likes to read thriller novels, psychology books, and mangas. She believes in the importance of grit, hard work, and passion to become a great writer in the future.