When you're in an online meeting or doing a virtual presentation, your lips are the most visible.
If you're not too keen on putting on makeup or even just lipstick, a tinted lip balm would do wonders to make you look well-groomed. 
Japanese brand Mentholatum LipCare has a selection of lip balms that moisturize the lips.
It also makes them look healthy, plump, and kissable.
Each line, including one for kids, was created with the different needs of users in mind.
LipIce is one of Mentholatum's lines of lip balms and it offers more than just moisturized lips. LipIce has options such as either colored, flavored, or containing some other surprise.
A variety of lip balms
If you want a pink flush, LipIce Magic Color Strawberry is a color-changeable lip balm that glides on clear.
It changes to a natural sheer pink that is uniquely yours with the bonus of a delicious strawberry flavor. 
If you prefer your lip balm fragrance-free, LipIce Magic Color Fragrance Free, a color-changeable lip balm that glides on clear and changes to a natural sheer pink with no added fragrances, is your best bet.
Meanwhile, LipIce Magic Color Pink Mixberry is a color-changeable lip balm that glides on clear.
Also, it changes to a natural sheer pink with the flavor of mixberry.
Aside from providing a flush of color and flavor, LipIce Magic Color has infused with ingredients that your lips will love.
These include commiphora mukul herb extract to smoothen fine lines and keep lips bouncy.
Enhanced with beeswax and argan oil for 10 hours of moisture, it containts natural ingredients such as shea butter, macadamia nut oil, jojoba oil, ternifolia nut oil and aloe vera oil extract to keep lips smooth and healthy.
It also has Vitamin E to protect your lips from the sun and other elements.
Get your own LipIce Magic Color from the Mentholatum Flagship Store on Shopee (https://shopee.ph/mentholatum) and check out the special 10.10 deals.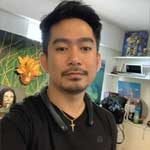 Josh Austria
Aside from being a businessman, Josh Austria has been working in PR and media industry for more more than a decade. From his years of experience as the Marketing and Advertising Head of Village Pipol Magazine, he has built strong relationships with creative people, brands, and organizations.