SB19 is the first group in P-Pop to have their hashflags on Twitter, and it seems fans can't stop making the best use of it!
On September 9, it was an ordinary day for every A'TIN performing their usual routine. Trending tags, discussing SB19's music, and actively interacting with each other until a surprise stole the spotlight.
Through Twitter, creative pictograms related to some tags about the group's newest era suddenly appeared. Moreover, not just one or two but five total hashflags astounded the entire fandom whose idols will hold a tour this September.
A'TIN, who has a reputation for trendsetting on Twitter, long manifested for SB19 to have its hashflag someday. And now that their wish has come true, words can't be enough to contain their happiness and excitement.
Getting familiar with SB19's official hashflags
Twitter first introduced hashflag on the platform in 2014, amidst the anticipation of the FIFA World Cup. It simply refers to a unique emoji generated besides a Twitter tag, often used by brands or prominent names in K-Pop.
As mentioned earlier, five hashflags of SB19 made a flabbergasting appearance. They are said to be available for exactly 91 days or a 3-month duration. Let's see what they look like! (Photos from @HashflagNow on Twitter)
See Also
#SB19– The custom emoji for the group's default hashtag is as simple as their logo for this era. It's a blue sticker with SB19's classic symbol on it.
#WYAT– WYAT or Where You At is the quintet's newly released pop-disco track. The emblem mimics a vintage ticket but with the stamp of the title song.
#WYATReconnection– This illustration likens the gesture in WYAT's point choreography. Signifying "reconnection" is both hand's index and pinky finger touching together.
#WYATTour– Ahead their forthcoming music journey, here's a bus named after SB19. Their teaser video for the said tour contained the same visual.
#WhereYouAtSB19_Sept_2022– Finally, the last hashflag is an icon of an old cassette tape. In the WYAT MV, it's not only an aesthetic but a meaningful element.
After these hashflags are introduced, A'TIN immediately celebrated by making it to the trending topics on Twitter. On the other hand, SB19 released some WYAT behind-the-scenes photos to commemorate another milestone achieved in this era.
Congratulations to A'TIN and the P-Pop kings!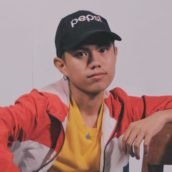 Renzneil Robles
Renzo is an introvert who prefers to do things at his own pace. Unlike most writers, he reads lazily. Watching Korean dramas at night is his constant source of comfort. Although oftentimes commended for being outspoken, he speaks better through writing than with his words.