More than a year since their epochal Pagsibol era, SB19 fulfilled their much-awaited comeback through the pop-disco track, Where You At (WYAT).
The song is composed by SB19 leader Pablo and tackles reconnection that resonates with everyone who underwent detachment during the pandemic. Its music video was launched last September 2, following a live countdown held by the members.
With the creative direction of Justin and collaborative efforts from bandmates Ken, Stell, Josh, and their entire team― WYAT MV sees an output that outdone what SB19 has showcased so far. As a result, it gathered over 545k views within 24 hours of its release. The single charted on different music streaming platforms while it trended at number 1 on Twitter worldwide.
Besides fans, several famous names and personalities voiced their support and appreciation for SB19's Where You At. Here are some!
Ai Dela Cruz
MYX VJ Ai, acquainted with the five members of SB19, put to good words how she looks up the new music piece. According to her, WYAT is not only age-inclusive, but it pays homage in the spans of multiple decades.
Arshie Larga
Arshie, who won the Popular Creator Award at the Tiktok PH Awards 2022, joined the WYAT hype too! Like many fans, he seems "in the zone," seeing how he tweeted his favorite lyric from the track.
Darla Sauler
TV personality Darla who once interviewed SB19 during their humble beginnings, is vocal in her admiration. Besides feeling delighted as an A'TIN, she took pride in being a Filipino. Moreover, she revealed an upcoming live interaction with the kings of P-pop.
DJ Gabby
For Star FM's DJ Gabby, she found a new feel-good song through Where You At. Back then, the radio personality had the newbie SB19 as a guest on her show. She witnessed how their career grew in time, so we can only imagine how proud she is.
Dingdong Avanzado
"Awesome!" and "Wow!" are the phrases we heard from Dingdong Avanzado himself. Exclaiming enthusiasm, he complimented SB19 by directly replying to the group's account. In addition, he even congratulated the quintet for this release.
Jayda Avanzado
On the other hand, it seems that Dingdong's unica hija also took after his preference! In an update, Jayda indicated how she is currently jiving with a bop that is Where You At. She is friends with the members of SB19 after collaborating with them a few times.
See Also
Jeff Benjamin
You know it's a big deal when a columnist from an American entertainment reputation like Billboards makes a positive commentary on a local act. Jeff took it to Twitter to laud SB19's excellent single, saying it's the start of a "big moment" for the group.
Ogie Alcasid
Meanwhile, WYAT even gained the approval of an OPM legend through Filipino singer-songwriter Ogie Alcasid. An A'TIN recommended he listen to the new release, so he did! Thanks to that initiative, he found "amazing music."
Samm Alvero
Come on. It's hard not to be like Samm in a world where WYAT exists. Confessing her positive addiction to the new SB19 track, the MYX VJ admitted that she listens to it all day. Hence, we agree! The song definitely slaps.
Sanya Lopez
Sexy Kapuso actress Sanya proved that expressing one's tremendous support can be done with simple words. Her short but on-point remark summarized how fans and attracted casuals feel at the moment: applause for SB19!
Have you watched and listened to Where You At yet?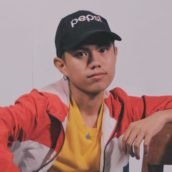 Renzneil Robles
Renzo is an introvert who prefers to do things at his own pace. Unlike most writers, he reads lazily. Watching Korean dramas at night is his constant source of comfort. Although oftentimes commended for being outspoken, he speaks better through writing than with his words.