Ever wondered what the outcome of two friends and three bottles of wine is? One creative collaboration for a full capsule collection. It was during the night of December 30 when newly friends Raphy Mukhi (also known as HOEST) and Jao Manuson (Founder and Creative Director of Jao Studios) decided to have a year-end wine night. 
"What if we actually do a full merchandise collection for HOEST?" starts Manuson, who was already on his laptop ready to look for moods and inspos. "Yeah, we can actually do it right now!" Jokingly as it may seem, the two started just overflowing with creative inputs and there became their first collaboration: HOEST x Jao Studios: Hide and Seek—all about HOEST's signature pink slash on the eyes, that resonates his hidden alter-ego where he seeks acceptance from his true self. 
The duo starts off the collection with the coolest tote bag ever.
Recently turning thirty, Raphy wanted to make a way to celebrate his 'goodbye 20s' and his eighth year being in the nightlife industry. "Since it's the pandemic, we can't all be together and celebrate like we used to. So through this collection, I'm sharing a piece of me and my milestone with everyone," Mukhi shares.
Every release of the collection is limited, making each piece one-of-a-kind. At first, the two just wanted to release the tote bag but then thanks to being wine-drunk, it grew out to become a full set—with t-shirts, button downs, track pants, and many others along the way, HOEST x Jao Studios: Hide and Seek is truly a collection to look out for. 
Check out the first of their capsule collection over at instagram.com/hoestxmukhi or order now at http://bit.ly/HOESTxJaoStudios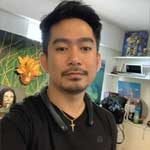 Josh Austria
Aside from being a businessman, Josh Austria has been working in PR and media industry for more more than a decade. From his years of experience as the Marketing and Advertising Head of Village Pipol Magazine, he has built strong relationships with creative people, brands, and organizations.