We all make Spotify playlists based on the different moods we have. How about a playlist for sadboi hours? A playlist for feeling in love? Playlists for partying? You feel it; you hear it. There's a playlist for almost every emotion that you can think of. But how about the rooms in your house? Yes, you read that right! You can't call yourself a music lover without having a mood playlist for the parts of your house.
Genereve Lasala and a Spotify playlist for every room in her house
Genereve Lasala, whose account is a rare gem to be found on Spotify, features a very unique music playlist for their entire house.
She has a total of fifteen public playlists, each corresponding to a room in their house. Her music taste ranges from indie retro and R&B genres.
"So yung dad ko kasi architect, and he's very passionate about places and what they're designed for. Kapag gumawa sya ng part of the house, ganun talaga yung ambiance ng part na binibigay na yun. Whenever I'm in an area of our house, I really feel a vibe."
Currently, she has six playlists named after the activities that she likes to do in a certain cranny of their home. These playlists include porch and wine, tsong's attic, padayon nook (study area), backyard morning, and devotion deck (worship songs), and balcony (for dinners and date nights).
"I feel like I associate music rin talaga with the place I'm in, so it's essential that I feel the ambiance for me. Even when I'm just walking down the street, I have a piece of music in my head. Like bagay tong song na to sa ganitong situation."
Traversing through her playlist, you'll notice one striking similarity about them- the covers. All of Genereve's Spotify covers feature ✨women✨
In fact, one of her Spotify playlists even displays our iconic gurl Mimiyuuuh!
"Originally, I organized to be aesthetically pleasing but eventually, I wanted to express myself through these playlists. All these places in our house are happy, wonderful, beautiful, and these are all qualities that I associate with women. I feel empowered through music, and every time I look at my playlist, I want to also feel empowered."
Furthermore, she adds that using these women on her playlist covers gives a special meaning.
"In this generation, we need more representations of women and what better way to do that than through music?"
According to Genereve, she spends months curating the songs to fit the mood of the playlist.
It takes a lot of time, but the Spotify playlists are her baby, and they stand as reflections of their home's soul.
Indeed, her playlists offer a unique sensation of moods and feelings! Music takes us to different places. However, in Genereve's case, music serves as an extension of her home and surroundings.
Listen to them now on Spotify, and who knows? You might be inspired as well to create a playlist for parts of YOUR home too. Siri, play Genereve Lasala's "Porch and Wine" Spotify playlist, and let's watch the stars to it. It's a great night and a great playlist for it.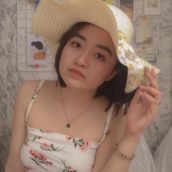 Llana Cabajar
An aspiring adventurist who aims to travel the world someday. Weird and poetic, a great friend for problematic rants and deep talks about life in general. Hit me up on my socials!