Is this another episode of Sana All?  Kilig! Actor Dominic Roque celebrated his 31st birthday with family and close friends, including rumored girlfriend Bea Alonzo on July 20, in California USA.
View this post on Instagram
Bea traveled to the United States for a vacation before starting work with GMA Network, her new home. Earlier this month, Dominic and Bea posted kind off similar photos on their Instagram accounts. Fans quickly conclude that the two are in the same place together. He has been commenting on Bea's vacation photos on Instagram with lovely messages like "i*y." Ending the speculations, Dominic Roque finally confirmed that he and Bea Alonzo are indeed together through an Instagram story.
Moreover, Bea opened up about her relationship status with Dominic, in an interview with G3 San Diego earlier this year. However, she refused to label their relationship.
"No. Wala pa kami. Ang hirap kasing sabihin, alam mo, parang in a way, as much as I don't want to be a prisoner of my past, meron din akong parang, nahihiya ako sa mga tao na 'I'm 33, I am dating.'"
Bea and Dominic always seems to be in the same place at the exact same time
Well, it's not the first time Bea and Dominic were seen together. In an Instagram post, Bea attends the baby shower of Dominic's aunt Beth Tamayo. Beth is presently residing in San Francisco, and she and her husband, Adam Hutchinson, are expecting their first child. Beth and Adam hosted a baby shower on June 11.
Last year, Dominic took Instagram to greet Bea. Netizens have observed that he and Bea appear to be seeing each other since last year. They posted photographs of food and atmosphere that were similar.
View this post on Instagram

So what's the real score? Bea Alonzo and Dominic Roque have yet to confirm or deny whether or not they were in a romantic relationship. But, it makes us kilig nonetheless.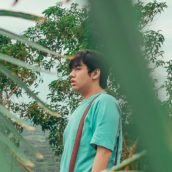 Ivan Royce Pedron
Ivan Royce is a journalism student from Cavite State University. Aside from being a writer, he is also a video content creator, photographer, and graphic designer. He likes to drink…. Coffee, tea, or maybe alcohol. Ask him for recommendations!