FIRST IN OUR HISTORY: SB19 conquers Grand Slam for VPCA Group Performer of the Year Award
To add to the legacies they made possible throughout running fiercely in the industry, SB19 has shaped yet another history.
In the recently concluded Village Pipol Choice Awards 2021, The kings of P-Pop were named the Group Performer of the Year. And to mention, this is not the first, nor their second, but the third time they consecutively won the title!
The Group Performer of the Year belongs to the most sought-after recognition under the Village Pipol Choice Awards' entertainment category. This award goes to the local group that has made phenomenal waves in the Philippine music scene. Moreover, they embody the value of teamwork, the essence of diversity, and has demonstrated passion in every performance.
SB19 for VPCA's 'Group Performer of the Year' Grand Slam
On March 26, Village Pipol unveiled the full VPCA results after the voting period that ended until March 05, 2022. Along with the opinions of the editorial team and a panel of judges, social media votes decided the winners.
With the highest combined points, SB19 garnered 99.5%, which is a nearly perfect score. Behind fulfilling this great fight was their A'TIN, who made sure they led the way. And as a result of such an overwhelming margin against their opponents, it was a landslide win.
Three years ago, SB19 clinched their first-ever Group Performer of the Year title in the inauguration of the Village Pipol Choice Awards. While in 2020, they proved to be no one-hit-wonder by again succeeding in the same acknowledgment. And now, in continuation of their feat, they have recorded thrice of uninterrupted victory.
It was in the year 2021 when VPCA introduced its Grand Slam. It is a special recognition honoring candidates who have won three times under a category.
On the other hand, with SB19 successfully meeting the requirements, they are the first to ever made it in our history. Hence, they are also the primary artist on our VPCA Hall of Fame!
At least from when they went viral, Village Pipol witnessed the growth of SB19. So, in their soaring high to stardom, the pleasure is ours to be part of their success.
You've come a long way, and longer there is to come. Congratulations on your Group Performer of the Year Grand Slam, SB19!
Produced by Village Pipol and Red Entertainment

Presented by Casino Filipino
Co-Presented by Sharp Philippines, Fleek Philippines and Tea Ni Juan
Major Sponsor by P-Charge, Anytime Fitness P. Tuazon and Anytime Fitness Radiance Manila Bay
Minor Sponsor by Grazeful Table, Bayong Republic, Chow Panda, and Jacko's Burger
Media Partners: GIZGUIDEPH, Iconic MNL and JourNYI

Hosted by JV Cruz and Rain Matienzo
Presenter: Kyle Vergara, Joel Rey Carcasona, Mark Anthony Rosales, Bella Thompson, Bea Borres

Makeup | Raffy Francisco and Lee Aquino
Hair | Arthur Tolentino
Stylist | Jowie Namayan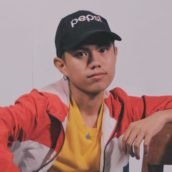 Renzneil Robles
Renzo is an introvert who prefers to do things at his own pace. Unlike most writers, he reads lazily. Watching Korean dramas at night is his constant source of comfort. Although oftentimes commended for being outspoken, he speaks better through writing than with his words.