Village Pipol Choice Awards is on the horizon for its third year of annually honoring the best of the best. Presented by the reputable multimedia magazine, Village Pipol, it is a highly-anticipated and consistently trending event in its two-year existence.
For its 2021 installment, the prestige of VPCA has just begun. And on the pulse of the credible award-giving body, stellar group SB19, and its fandom A'TIN can sculpt a new history. The dyad will have the chance to earn their respective first whopping grand slam for a three-year winning streak!
But will their victory remain uninterrupted?
SB19 for Group Performer of the Year
From being Billboard's Top Social Artists, and nominees for MTV-EMA's Best Southeast Asia Act, SB19 has proven more than enough. And on the local scale, they remain unrivaled among many by bagging multiple recognitions from respectable organizations. To mention, VPCA is only one of those.
In 2019, SB19 went viral for their 'GO UP' dance practice video. Acknowledgment then swarmed their heights after years of being unnoticed in a country with a fierce spotlight for real talents.
That being the case, Village Pipol did not only witnessed the group's journey but took part in it as well. The quintet graced the first-ever VPCA as nominees, and soon winner for the 'Group Performer of the Year' category.
Meanwhile, in 2020, SB19 contended again for the title but they surmounted all other groups once more. Thus, this makes them the undefeated defender of the repository.
A'TIN for Fandom of the Year
Named after their idols, it is impossible to leave out A'TIN when talking about the success of SB19. The fandom branding means that in every triumph trail of SB19 (nineteen), there will always be the A'TIN (eighteen) behind.
Nonetheless, it seems that they lived up to that though so far. With no doubt, the Village Pipol Choice Awards can attest to that!
It was in 2019 when A'TIN vied for Fandom of the Year— a category granted to the most passionate fandom in the Philippine entertainment industry who demonstrated untiring support for their idols.
Moreover, A'TIN's fight in 2020 was even fiercer against MayWard (Maymay Entrata and Edward Barbers' love team fandom). But in both years as nominees, A'TIN remained the prime.
SB19 and A'TIN for a possible VPCA Grand Slam?
Since the VPCA making, SB19 and A'TIN have stood steadily supreme as consistent title holders of their corresponding categories. Now for the third time, their fight will surely be more meaningful with a 'grand slam' being possible.
As an introduction to this prestigious recognition, it means that threefold sequential victory will guarantee a secured elite spot for deserving candidates. Hence, SB19 and A'TIN who consecutively won from 2019 to 2020 could be the primary to make that history happen. It's a chance to prove after that they no longer have to prove anything!
To be held online still due to pandemic restrictions, the VP Choice Awards will happen on March 26, 2022. So don't miss out! Who knows, you and your idols could be the next in line.
Calling all A'TIN, are you fueled enough for the forthcoming fight?
For sponsorship and partnership opportunities, please don't hesitate to contact Josh Austria at +63919-002-4458 or +63917 844 5981. You may also reach us out through redentertainmentph@gmail.com or vpchoiceawards@gmail.com.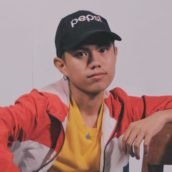 Renzneil Robles
Renzo is an introvert who prefers to do things at his own pace. Unlike most writers, he reads lazily. Watching Korean dramas at night is his constant source of comfort. Although oftentimes commended for being outspoken, he speaks better through writing than with his words.