As the capital of our country, Manila is a city of bustles and lights so it's hard to imagine it to have spooky stories. But, if you want some horror and trivia, you'll be quite surprised and scared that some of the city's several landmarks hold a dark past in this event by WanderManila.
Looking at Manila's popular locations, through a darker lens
WanderManila is a touring and experiential group that specializes in custom private tours. Last year, they had an online event called "One Night in Manila." For this coming Halloween, they will be stepping outside Intramuros to discover spookier histories behind some of the famous places and structures in the capital city.
According to their Facebook account,
"Manila's history has its share of violence and blood, of strife and death, and these acts echo well into the present, manifesting in various ways. The smell of flowers when there are none, the mysterious footsteps in an empty building, the shadowy figures at the corner of your eye."
Note that this is going to be an online presentation just like last year. But the best thing is, this is for FREE! WanderManila will be live streaming the event on their Facebook page.
Here are some of the frequently asked questions regarding this event:
Will WanderManila actually be live streaming in Manila for this tour?
"No, we will NOT be doing a live tour. We will be doing a live presentation. The threat of COVID19 is still present, so please keep safe, everyone."
What will you be talking about during the tour?
"Manila has had a tumultuous history, to say the least. Rebellions, insurrections, invasions, and war, this city has seen it all. We're going to be looking at some of Manila's popular locations, through a darker lens."
What is this tour NOT?
"Just like last year, this is STILL not a "takutan" kind of tour. If you're expecting jump scares, or monsters jumping out of your screens, you'll be sorely disappointed. This is a history tour disguised as a Halloween event."
The organizers will stream One Night in Manila on October 30, 9 pm. So if you don't have any plans on Halloween's eve, this may be a cheap but fun way to celebrate it with your family and friends.
Will you guys try watching it?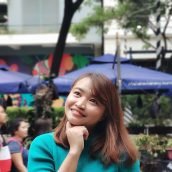 Queenie Lastra
Queenie Lasta got her bachelor's degree in Communications Research from UP Diliman. In her free time, she likes to read thriller novels, psychology books, and mangas. She believes in the importance of grit, hard work, and passion to become a great writer in the future.