Elijah Canlas pens heart-melting message for girlfriend Miles Ocampo's 26th birthday
Photo | Elijah Canlas (Instagram)
Elijah Canlas and Miles Ocampo's romantic relationship gets sweeter with every passing birthday, and this year is no exception.
On Sunday, Ocampo celebrated another significant step in her journey as she turned 26. She marked the event in a post on Instagram sharing snaps of herself while holding a birthday cake.
"Grateful for good health, a new year, and a new life. [I] will make sure to make it a great one. Thank you for the love and greetings, everyone," Ocampo wrote.
Meanwhile, her boyfriend, Canlas, took to a separate post to pen a sweet greeting for her "love." Showing a compilation of their affectionate moments, the Gameboys star addressed,
"Witnessing your growth has been such an inspiration. I'm grateful I get to share this journey with you, Camille. You're a blessing to this world — and I'm blessed to call you mine."
Canlas ended his message with the remark, "Happy birthday, my love!"
Elijah Canlas greets girlfriend Miles Ocampo on her 26th birthday
Looking back, the two first went public on their special ties around the same time last year. During Ocampo's 25th birthday, Canlas took to a social media update to greet the actress, referring to her as his "favorite person in this world."
For her part, Ocampo uploaded a picture of their silhouette in a post conveying her gratitude for the milestone. In return, Canlas commented, "About to be the best year yet."
Since then, the couple has received an outpouring of support and well-wishes from fans and colleagues in the entertainment industry.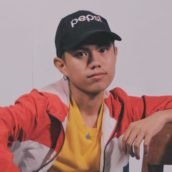 Renzneil Robles
Renzo is an introvert who prefers to do things at his own pace. Unlike most writers, he reads lazily. Watching Korean dramas at night is his constant source of comfort. Although oftentimes commended for being outspoken, he speaks better through writing than with his words.