As women acquire more power and dominance in a man's world, Anne Barretto ascends to the realm of the unbreakable.
She moves in grace, clad in her pink dresses and cream stilettos, defying the standards that women should dress to impress. For in the mind of Anne, nothing is more powerful than being herself, even as to trump the idea that feminity is weak because she knows she is indomitable.
Anne Barretto is a believer. Everything she has, she has worked for, and are fruits of her hard labor. As the CEO of the LGB Aesthetic Center Opc, she has strived for the best and still continues to work for all of her dreams.
The self-proclaimed kikay never listened to her inner saboteur for she believes that self-doubt should never get in your way. The key to success is putting your faith not in yourself alone but in your comrades as well.
"Do not give up on your dreams, passions, and always work towards reaching your goals. These are the things that will make you truly successful."
Anne Barretto and her passion
The empowered woman pioneered the widely successful Hey Pretty Aesthetic clinics and skin brand, further fueling her passion for Health and Beauty. The establishment of this brand is a dream turned into reality as Anne enters the industry she has always loved.
"My mission is pretty straightforward—to change people's lives for the better by advocating confidence and healthier lifestyle and by way of promoting smart opportunities that will enable financial stability and time freedom."
The perfect ambassador
Hey Pretty Aesthetics has made its mark in the industry and continues to be impactful in the lives of its loving consumers. Anne has worked with a lot of amazing people representing her brand's name and relaying its message. She loves working with people who share the same passion for health and beauty. However, among all of the celebrities, one personality perfectly embodies the ideals of the brand.
"If there is one celebrity who I really want to represent my brand, it will be Heart Evangelista. I've been a fan and I've followed her for years. I just so love her energy and everything about her. I really connect with her in so many levels given that she's an Entrepreneur and a wife like me. So hopefully, in the near future, I get to work with her."
The three pillars of success
Passion, self-confidence, and perseverance became the foundation of Anne Barretto's path in business. In all her years, the CEO has taken a lot of risks, and despite all of the struggles and failures she has gone through, these three pillars strengthened her.
"I know what I want and nothing or no one can stop me from realizing my dreams. It hasn't been easy. There were times where it seemed like there's no hope but I held on to my passion and I trusted myself and the process and all of that led me here."
Uplifting women
Anne Barretto believes that we are now in a time where it has been proven that women are more than capable of doing everything. The girl boss strives to empower every woman out there.
She uplifts them through various means. This extends to her staff, partners, and even to her clients. Anne wants to achieve this, not just by providing limitless opportunities but also by being an inspiration. As a woman, she has already accomplished some really great things and she knows so can they.
Pink is not merely feminine
The CEO struts the halls and walks the streets, perfectly dressed in her pink outfits. It is no secret that she adores the color usually associated with femininity, which can also somehow be translated to others as a sign of naivety. However, to Anne, that is never the case.
Ever since she was a kid, Anne has always been drawn to the beauty of the color, initially, due to the perception that is very feminine. Being a kikay herself, she was enchanted by its allure. Nevertheless, along the way, Anne gradually saw it in a different light.
"I learned that the color pink is not merely feminine. It's a color for everyone really. I look at it now as a color to express one's self. I believe that color does not discriminate and if it is the color for you, regardless of your circumstance, then so be it."
The future of Hey Pretty
Hey Pretty Aesthetics has been around for several years now and Anne Barretto clearly made a name for herself. With all of the success that the girl boss and her brand have accomplished in a short span of time, the future in an even bigger picture looks really promising.
"We currently have 17 branches within the country, most of them, within NCR. Right now we're looking at expanding to some provinces and hopefully, really soon, we're looking at going international just like what we did with Hey Pretty Skin. I just really want to reach and help as many people as we can with our products and services."
The indomitable CEO in pink
Anne Barretto represents all of the dolls who embody the stereotypical kikay and the somehow degrading term of "overly-feminine." It has taken her so long to be able to find her place in the patriarchy and break through the glass ceiling.
The CEO of Hey Pretty Aesthetics who loves the color pink is definitely more than just a pretty face. She continues to inspire every girl and woman out there who feels powerless.
"Dreaming is one of the few things you can do without having to pay for. So dream the biggest dream. It all starts there. Know what you want, never let go of it, and do everything you can to realize that dream. It's not going to be easy. Failures are imminent. But getting up and continuing to fight after life beat you up makes a successful person."
As Anne Barretto paves her way into the world of men, she has always managed to put her flair into things and enchant people with her charisma and undeniable skills, for Anne is not only a woman of grace but also a woman of eminence.
Publisher | Richie de Quina & Gwynn Crisostomo
Editor-in-Chief | John Luke Chica
Senior Editor | Rapha Garcia
PR & Advertising Manager | Josh Austria
Digital Manager | Allen Esteban
Words by Rapha Garcia
Photographer | Andrea Beldua
Designer | Cyrus Gueta
Styling Team | Styled by Kenneth R.
Makeup | Jr Constantino
Hair | Darwin Sinel using REVLON PROFESSIONAL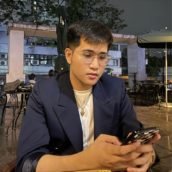 Rapha Garcia
Rapha is a person born between the generations of Millenial and Gen Z. He was produced by Cavite State University (Main Campus) with a bachelor's degree in Political Science. The lad has a fresh take on things, but can still stay true to his roots. He writes anything in Pop Culture as long as it suits his taste (if it doesn't, it's for work). He loves to wander around the cosmos and comes back with a story to publish.